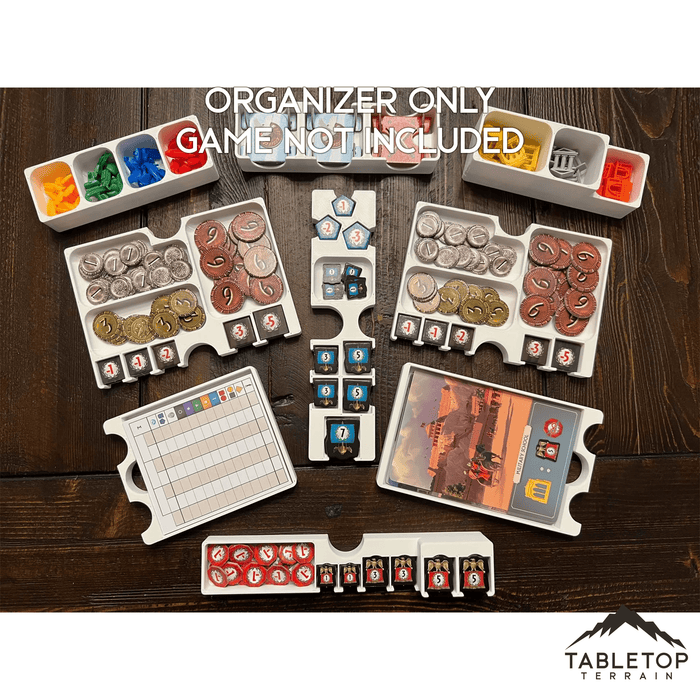 7 Wonders (2nd Edition) with Expansions Board Game Insert / Organizer
Original price
$65.00
-
Original price
$65.00
Organizer/insert only. Does not include the board game!
This is an insert / organizer for 7 Wonders (Second Edition) with the Edifice, Leaders, Cities, and Armada expansions.  It features:
*  Separate and labeled trays for all of the cards. 
*  Two trays for the money and debt tokens, one tray for each end of the table.
*  Holds two sets of the expansion score sheets, as well as a pencil or pen in a dedicated tray.
*  Supports vertical storage.
*  Supports sleeved cards.  Gamegenic Prime (100 micron) sleeves are shown on the playing cards in the pictures.  The Edifice cards are not sleeved in the photos, but I designed the Edifice card tray to support sleeves based on sleeve dimensions a BGG user provided.
*  Plenty of finger holes to make it easy to the get the trays and boards out of the insert.
*  The leaders for the Cities expansion are stored in their own slot in the Cities card tray.  All other leaders go in the Leaders tray.
Designed by JS5002 on Printables. We have agreement with him to sell his designs in exchange for a royalty. -https://www.printables.com/model/455606-7-wonders-second-edition-insert-organizer-fits-edi