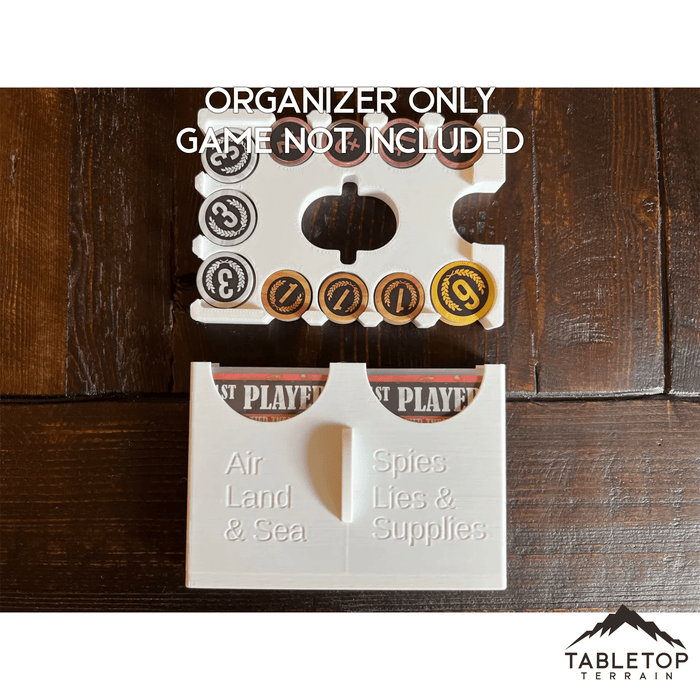 Air, Land, & Sea with Spies Expansion Board Game Insert / Organizer
Original price
$20.00
-
Original price
$20.00
Organizer/insert only. Does not include the board game!
This is an insert for Air, Land, & Sea and the Spies, Lies, & Supplies standalone expansion.  It fits both games into either the ALS or SLS box.  It also supports premium sleeves on the playing cards, including the Dragon Shield matte clear sleeves shown in the photos.  It does not support sleeves on the extra large cards the represent the battle theaters (e.g., Air, Land, and Sea).  The main card holder splits the games into separate compartments that are individually labeled.
It was tricky to get this all to fit in such a small box while also making it easy to get the components into and out of the box.  Because the playing cards effectively fill the whole bottom of the box, there was no way to add finger holes to easily get that tray out.  I ended up adding a handle to the side.  When the two trays are in the box, the handle pokes up through the token tray.  You just grab that handle and simultaneously lift both trays out of the box at once, as shown in one of the photos.
Designed by JS5002 on Printables. We have agreement with him to sell his designs in exchange for a royalty. -https://www.printables.com/model/266966-air-land-sea-insert-organizer-with-spies-lies-supp