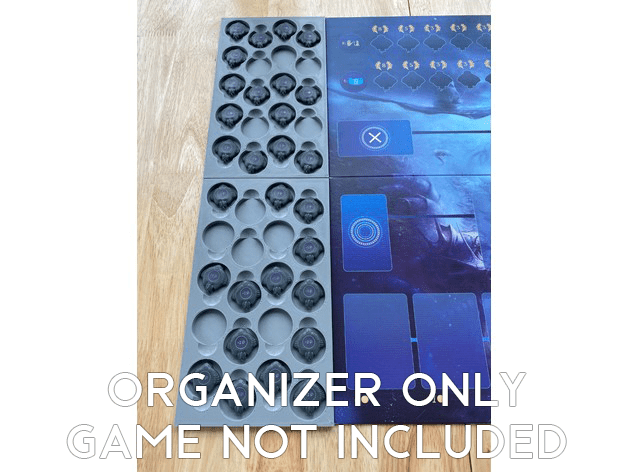 Aquatica + Cold Waters Board Game Insert / Organizer
Original price
$40.00
-
Original price
$40.00
Organizer/insert only. Does not include the board game!
This is an insert was designed to hold Aquatica and its Cold Waters expansion in the base game box. Each player gets their own player tray, which holds their starting cards on top of a well that holds their trained mantas. For the wild mantas, you can sort them into the two pictured flat trays. It helps keep those wild mantas organized by type, and when it comes time to play, you can just put the trays out next to the board. The organizer also provides separate storage locations for the ocean characters, the kings, the level I tribes, the level II tribes, the depth locations, and the goal tiles.

As shown in one of the pictures, the card trays accommodate sleeved cards. I used Dragon Shields for the test, but most any should work as long as they are not overly tall (like some FFG sleeves used to be). I don't sleeve my location cards, but there is enough room that they should fit even when sleeved.

The unconventional shape of the boards and the smaller form-factor of the tribes board made organizing this a bit of a challenge. There is a spacer tray, which doubles as a place you can hold any extra components you might have. There's also extra room for other card types and extra mantas, should an expansion introduce more of them.
Designed by JS5002 on Thingiverse. We have agreement with him to sell his designs in exchange for a royalty. - https://www.thingiverse.com/thing:4830981