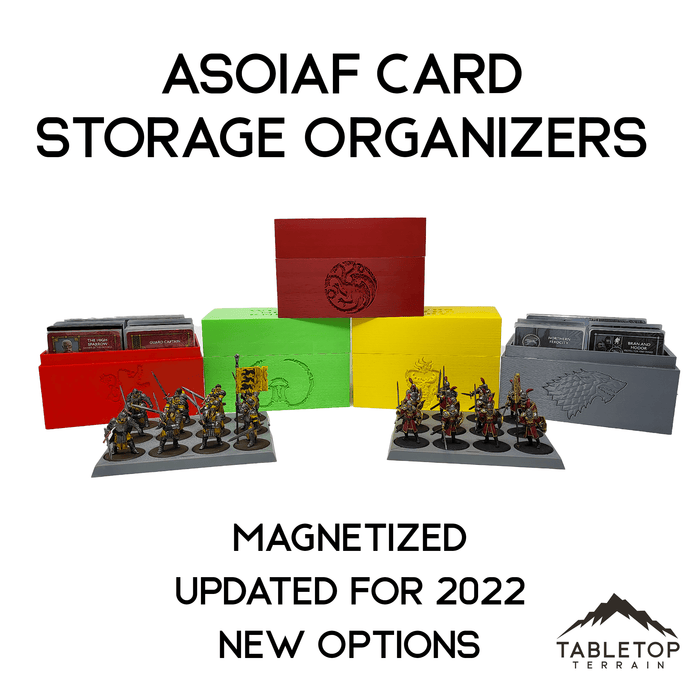 ASOIAF Card Storage Organizers
Original price
$29.00
-
Original price
$43.00
New and updated Card Storage Organizers for the A Song of Ice and Fire Miniatures Game. 

- Magnetized lids hold cards and dice in place even when the box is tipped over
- Updated for 2022 update
- New versions to allow for dice and objective / secret mission decks. 
Options- 
General's Cache - the largest box including a space for faction specific dice and the objective / secret mission cards. 
Commander's Chest - the standard box. Holds all of the cards for each specific faction.
Tournament Squire - Perfect mobile, on the go box. Includes everything you might need for a tournament setting. 
Detailed information available here- https://docs.google.com/spreadsheets/d/1_NS6y_KlA1Z10_iU0NZ6uePAPCv4yoMIgJpGmOohXEQ

Notable points- 
Targaryen boxes have additional space to include the additional commander cards. 
Freefolk box has an added space for Mag the Mighty's card deck. 
Baratheon box holds 18 Commander decks, space is tight. If you would rather split up your cards, Renly and Stannis boxes are available in the normal arrangement. 
Magnets- 

All boxes come with 1/2"x1/8"x1/8" Neodymium block magnets. You can choose to buy either pre-assembled magnets or DIY. If you choose DIY, we are not responsible for you gluing magnets in with the wrong orientation.