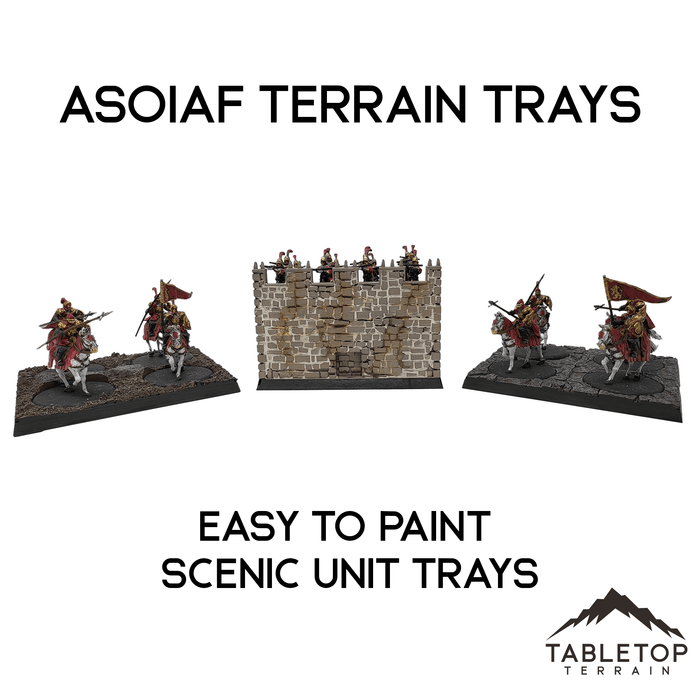 ASOIAF Terrain Trays
Original price
$12.00
-
Original price
$45.00
Unit Trays compatible with the A Song of Ice and Fire Miniatures Game with integrated terrain for easy painting. The Trays all come with a set of unit bases, giving you the option to glue your miniatures on the included bases to complete the scenic look. 
These Trays are exactly the same dimensions as the official trays from the game and are designed to be interchangeable with your current collection. At the bottom of the tray, they have slots to glue in  washers to magnetize your models to the tray, as well as disc magnet slots to magnetize your tray to a metal sheet for easy transport. Washers and magnets are not included. 
The Unit Bases included continue the tray design onto the bases for an uninterrupted scenic look when the miniatures are placed in their corresponding spot. Each cavalry tray includes 4 bases, infantry tray 12 bases, and solo tray 1 base. 
Multiple Styles are available including- 
Rough Ground: Infantry, Cav, Solo
Mountain: Infantry, Cav
Rocky Ground: Infantry, Cav
Mud: Infantry, Cav, Solo

City Streets: Infantry, Cav, Solo
Cobblestone: Infantry, Cav, Solo

Palisade: Infantry
Stone Wall: Infantry
Castle Wall: Infantry
A painting tutorial by Mike Meeple is available here- https://youtu.be/wmdMZKzYVMg
A review video by On the Table Gaming is available here- https://youtu.be/MR7L2x8rv_s
Hardware Recommendations: 
Tray Washers - #10 SAE Washers
Tray Corner Magnets - 10x2mm disc magnets
Base Magnets - 10x2mm or 10x1mm disc magnets depending on how much magnet strength you prefer. 
The trays were designed with a lot of texture that will spread the paint, helping to give you a good looking final product with minimal effort. You can of course pick out individual details for a more "Parade" look, but they are designed to look great with just a few quick passes.