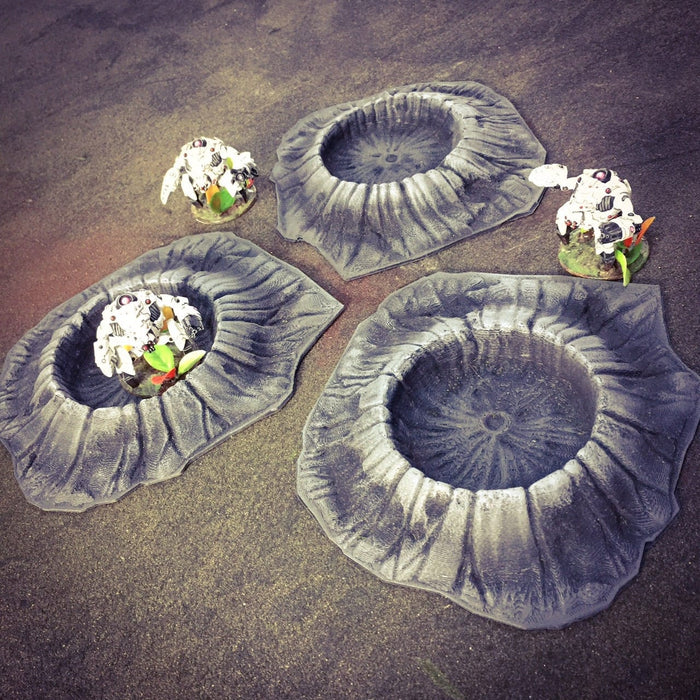 Blast Craters
Original price
$13.00
-
Original price
$30.00
The Blast Craters are a set of three craters for tabletop wargames. The craters are designed for sci-fi wargames such as Warhammer 40k (28mm), Kill Team (28mm), Star Wars Legion (32mm), Warmachine (28-32mm), One Page Rules (varies), Stargrave (28-32mm), Starfinder (varies) or Infinity (28-32mm). 
-What's Included
3 Craters
In 15mm scale, the craters measure: 107x98x12mm/4.2x3.9x0.5 inches, 82x76x9mm/ 3.2x2.9x0.3 inches, and 49x46x5mm/1.9x1.8x0.2 inches.
In 20mm scale, the craters measure 125x115x14mm / 0.9x4.5x0.5 inches, 96x88x11mm / 3.8x3.5x0.4 inches, and 57x53x6mm / 2.2x2.1x0.2 inches..
In 28mm scale, the craters measure: 178x164x20mm / 7.0x6.5x0.8 inches, 137x126x15mm / 5.4x4.9x0.6 inches, and 82x76x9mm / 3.2x2.9x0.3 inches.
In 32mm scale, the craters measure 203x187x23mm / 7.9x7.4x0.9 inches, 156x144x17mm / 6.1x5.7x0.7 inches, and 94x87x10mm / 3.7x3.4x0.4 inches.
All items come unpainted in non-toxic gray PLA. Some assembly may be required. We inspect all of our products prior to shipment, but due to the nature of 3d printing, some objects may require some cleanup prior to use. Other print resolutions (print quality) and scale (size) are available as requested. This item is designed by Printable Scenery as a part of their Rampage Set. printablescenery.com. Tabletop Terrain is a licensed printed of Printable Scenery.