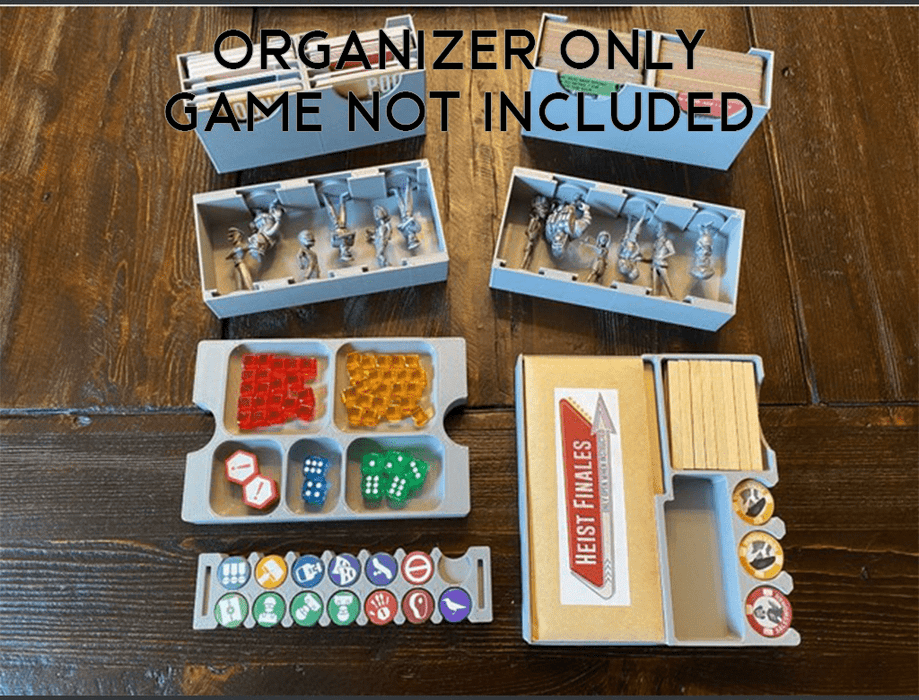 Burgle Bros 2 Board Game Insert / Organizer
Original price
$43.00
-
Original price
$43.00
Organizer/insert only. Does not include the board game!
This is an insert / organizer for Burgle Bros. 2. It includes the following features:

• Holds the optional miniatures in the base box (I applied a panel line accent wash to mine in the photos).

• Provides individual spaces for the small tokens used during the game, so you can access them directly without needing to sift through a pile of them.

• Provides an in-game tray that holds the other items commonly used during the game, including the heat markers, orange counting cubes, bouncer destination markers, blue dice, and green safe dice.

• Sorts the cards into individual slots, including separate slots for the character cards, gear cards, bouncer cards for floor 1, bouncer cards for floor 2, bouncer distracted cards, dead drop cards, pool event cards, and lounge event cards.

• Provides a setup tray that includes space for the walls, poker chips, the original wooden meeples, the meeples used during some of the finales, the heist rewards envelope, and the finale envelope.

To make it all fit, I removed the original insert pieces that came with the game, including removing the yellow holders for the sticks that elevate the box into a second floor. I really like laying the box flat on the table to provide a bit of lift for the second floor, but I did not want to use the sticks, so I removed them. As shown in the photos, the box closes nicely and it passes the upside-down shake test.


Designed by JS5002 on Thingiverse. We have agreement with him to sell his designs in exchange for a royalty. - https://www.thingiverse.com/thing:4861309