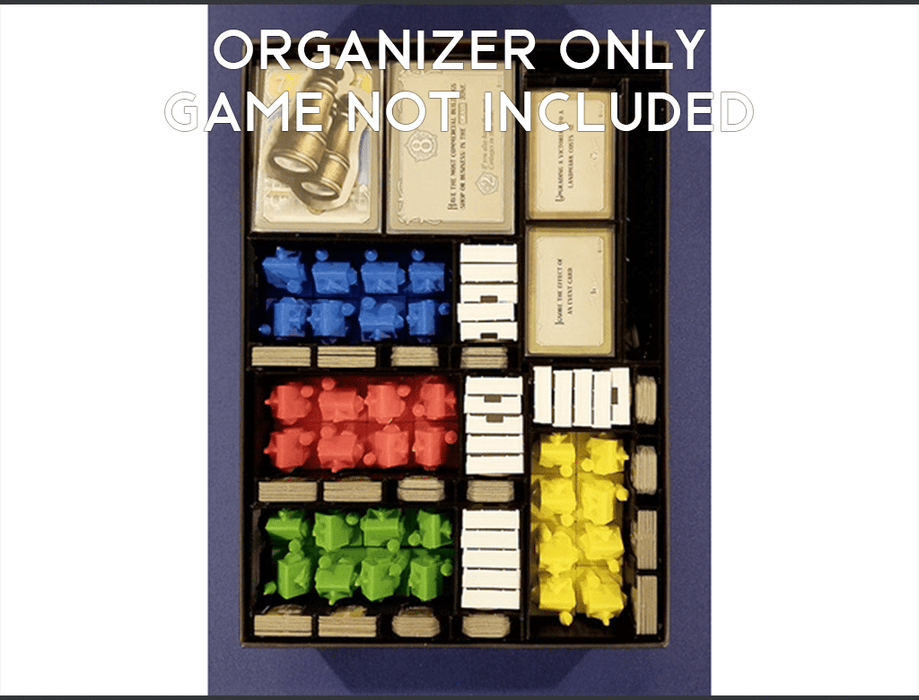 Cape May Board Game Insert / Organizer
Original price
$44.00
-
Original price
$44.00
This listing is for the board game insert / organizer only. Pictured board game is an example only. Game not included. Pictures shows mesh box bottoms, our insert features fully solid bottoms. We think the stability and sturdiness is worth a little higher price. 
This is an organizer for the board game Now or Never. It supports premium sleeved cards. It also supports vertical storage. The organizer helps with setup and teardown and most boxes can be used right on the table.
I know that the Landmark Bases are not player specific pieces. They just happen to fit 5 to a player tray, so that's where they went. Obviously share them out as needed during play.

In the same area as the Landmark Bases, I placed the Prestige Tokens. You can't really see them in any photos and I figured folks might ask.
*The Token spaces in the Victorian Minis tray are NOT the same size. Cottage Tokens go in the two left-most spaces and Shop Tokens go in the two right-most. Make certain the Shop tokens go in with a flat side up/down and "points" to the left/right.

The Player Markers are a little tight in their area. (That's also where I put the Income Tokens.) While there is more space to make it a little easier to put them in and out, I was trying to prevent them from rattling around too much. 

There is a TINY bit of slop on either side of the single pair of player trays oriented perpendicular to the other three pairs. I could have made it fit the space perfectly, but I just thought it was easier to make them all exactly the same so you don't have to worry about which ones go where.


This product was designed by Patella on Thingiverse and printed in non-toxic PLA. We have a licensing agreement set up with him so he receives some of the proceeds from the sale of his designs.