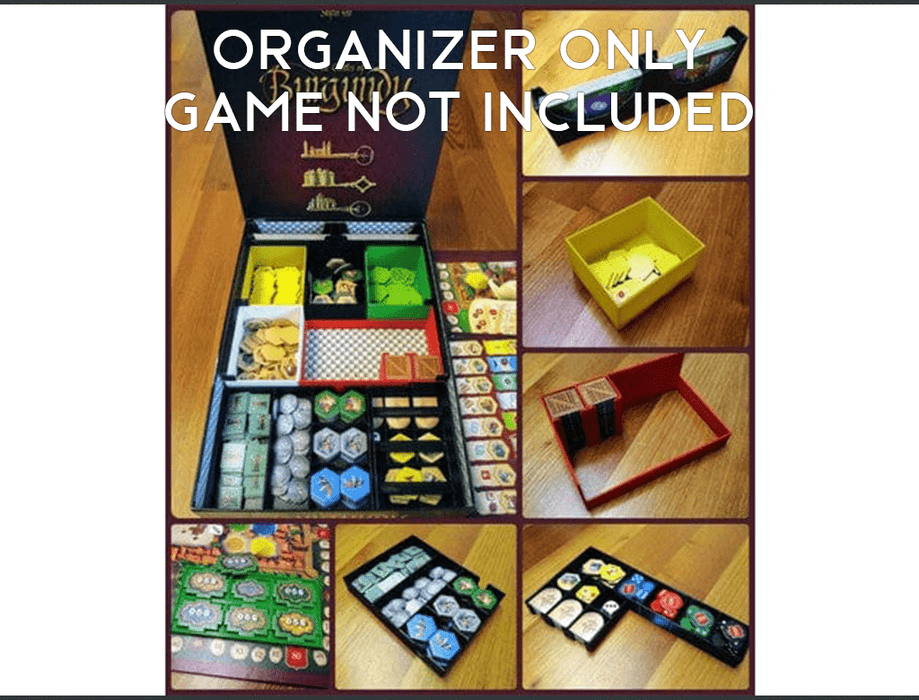 Castles of Burgundy Anniversary Board Game Insert / Organizer
Original price
$43.00
-
Original price
$43.00
This listing is for the boardgame insert / organizer only. Pictured board game is an example only. Game not included.
This is an organizer for the board game The Castles of Burgundy (2019 edition) and will help during setup/teardown and gameplay.

Includes:
Trade: Holds the trade route tiles and can stay in the box.
Tiles: 4 of these, they hold the green, yellow, beige, and black tiles. They're meant to be used to shuffle the tiles and blindly draw directly from the boxes.
Goods: This is basically a spacer that also holds the goods tiles and can stay in the box.
Bonus: This holds all the bonus tiles and can be put directly onto the game board.
Bonus_Spacer: This is just a spacer to fill the gap underneath the Bonus box and can stay in the box.
Player: This holds all player pieces, shields, and expansion tiles.
Coins: This holds the silver coins, workers, mines, ships, and castles and can be used on the table.
Coins_Spacer: This is a spacer to fill the gap next to the coins box and also to keep the other pieces in place.
Board_Spacer:  Used to keep the main board and the player board from moving around in the box when you store it on the side or plan to carry it around often.

This product was designed by Fabmaszter on Thingiverse and printed in non-toxic PLA. We have a licensing agreement set up with him so he receives some of the proceeds from the sale of his designs.