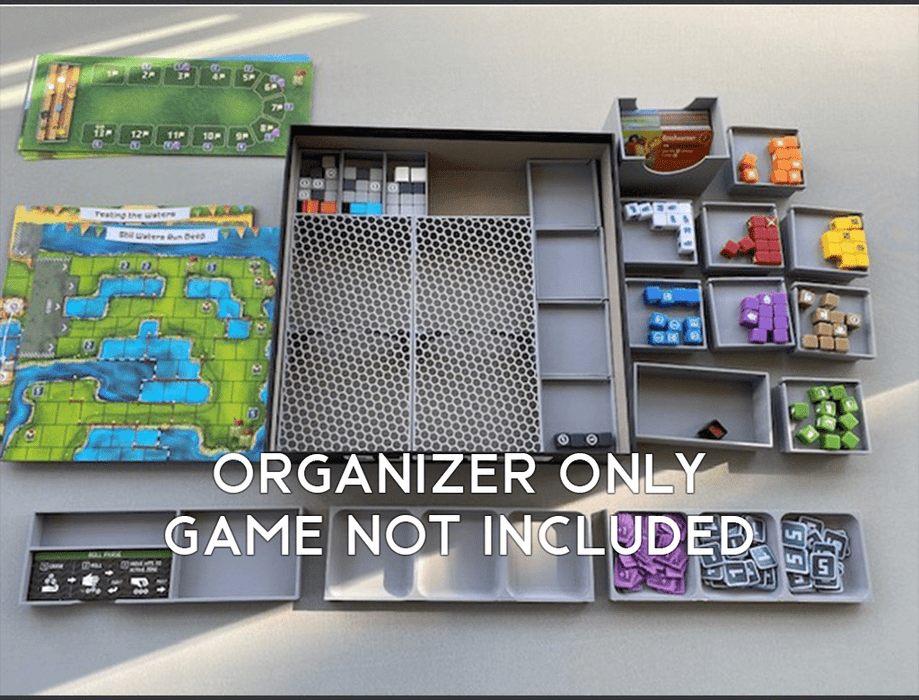 Cubitos Board Game Insert / Organizer
Original price
$56.00
-
Original price
$56.00
Organizer/insert only. Does not include the board game!
The insert was designed with speedy setup and teardown in mind. To accomplish this goal, I generally prefer to have a set of trays that completely fills the box and holds tight when the box lid is on. With the box lid on, this insert without dice-tray lids passes the upside-down shake test. I also prefer to have individual player trays that hold everything a player needs to get started. With this insert, you can hand each player their own tray containing their starting dice and their player pawns.


The card tray supports sleeved cards. I don't sleeve my cards for this game, but I tested the tray with a stack of cards in Dragon Shield premium sleeves and they fit well.


There is some extra space in the box, so I included a few extra spots where we could put surprise components that may come in an expansion. There's no way to know at this point whether the existing space will accommodate unknown expansion components, but we can always tweak the design if there some oddly-shape new components.


Designed by JS5002 on Thingiverse. We have agreement with him to sell his designs in exchange for a royalty. - https://www.thingiverse.com/thing:4792843