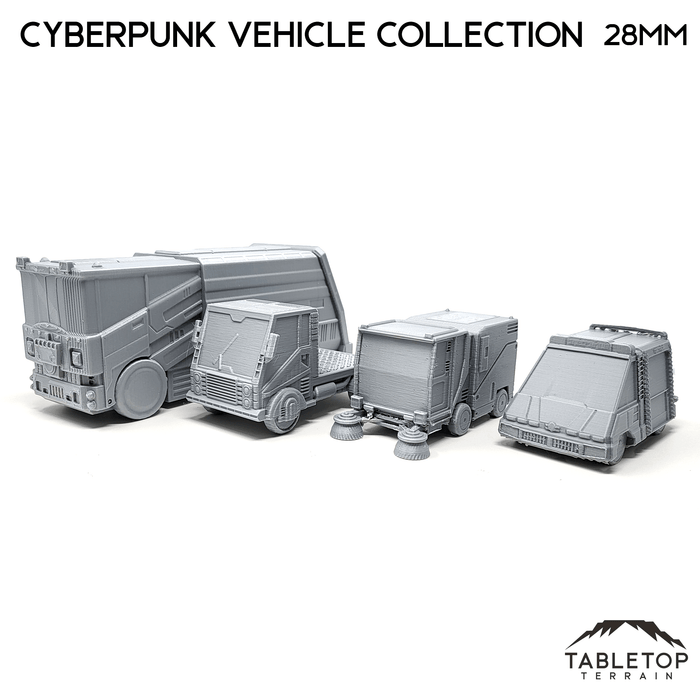 Cyberpunk Vehicle Collection
Original price
$6.00
-
Original price
$55.00
The Cyberpunk Vehicle Collection is a collection of different futuristic urban vehicles. They make a great addition to a futuristic tabletop for games such as Stargrave or Cyberpunk Red (28-30mm scaled games). 
-What's Included 
1 Cyberpunk Vehicle. 

Garbage Vehicle- comes in two pieces with clips to hold it together

Dimensions: 40mm- 82x230x90mm / 3.2x9.1x3.5 inches 32mm- 75x209x82mm / 2.9x8.2x3.2 inches 28mm- 65x184x72mm / 2.6x7.2x2.8 inches 20mm-  46x129x50mm / 1.8x5.1x1.9 inches 15mm- 39x110x43mm / 1.5x4.3x1.7 inches
Metro Taxi
Dimensions: 40mm- 58x96x55mm / 2.3x3.8x2.2 inches 32mm- 53x88x50mm / 2.1x3.5x1.9 inches 28mm- 47x77x44mm / 1.8x3.0x1.7 inches 20mm- 33x54x31mm / 1.3x2.1x1.2 inches 15mm- 28x46x26mm / 1.1x1.8x1.0 inches
Street Sweeper
Dimensions: 40mm- 58x111x57mm / 2.3x4.4x2.2 inches 32mm- 53x102x52mm / 2.1x4.0x2.1 inches 28mm- 47x89x45mm / 1.8x3.5x1.8 inches 20mm- 33x62x32mm / 1.3x2.4x1.3 inches 15mm- 28x53x27mm / 1.1x2.1x1.1 inches
Utility Vehicle- comes in 5 pieces. Wheels have to be glued on. 
Dimensions: 40mm- 65x111x64mm / 2.6x4.7x2.5 inches 32mm- 60x101x58mm / 2.4x3.9x2.3 inches 28mm- 52x89x51mm / 2.1x3.5x2.0 inches 20mm- 37x62x36mm / 1.5x2.4x1.4 inches 15mm- 31x53x31mm / 1.2x2.1x1.2 inches
All items come unpainted in non-toxic gray PLA. Some assembly may be required. We inspect all of our products prior to shipment, but due to the nature of 3d printing, some objects may require some cleanup prior to use. Other print resolutions (print quality) and scale (size) are available as requested. This item is designed by Corvus Games and is available at corvusgamesterrain.com.