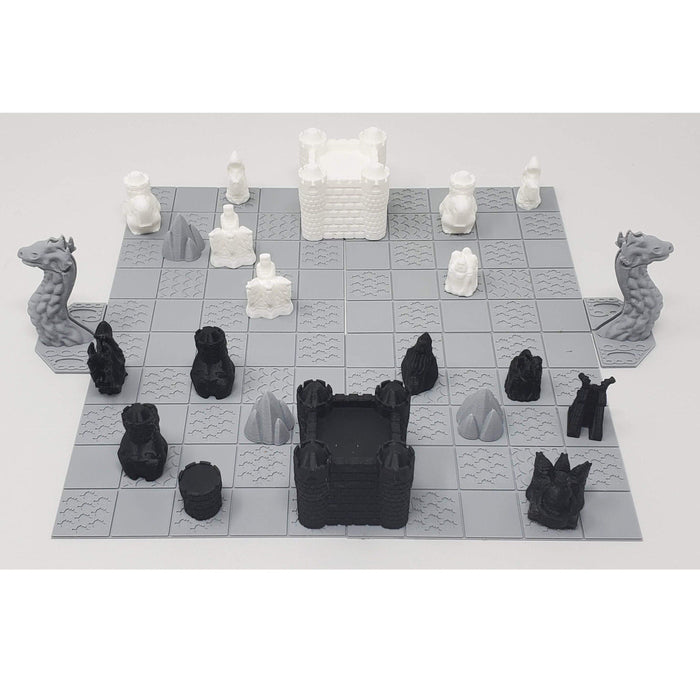 Cyvasse - Game from A Song of Ice and Fire, George R. R. Martin
Original price
$30.00
-
Original price
$100.00
Cyvasse, George R. R. Martin's game from the Song of Ice and Fire books.
This 3D representation takes bits and pieces from Martin's description in the book and puts it together into a playable game. Includes everything you need to play the game, along with a game box to hold everything.
-Game box with retractable lid
- 4x board sections
- 2x Dragon screen braces
- 2x cover screen
- 6x mountains
- 2 Playing Piece sets of: 3x Rabble 3x Spearmen 3x Crossbowmen 3x Light Horses 2x Heavy Horses 2x Elephants 1x Catapult 1x Trebuchet 1x Dragon 1x King 1x Keep
Different rule sets have been created for the game as GRRM has not published his own rules. My favorite set of rules can be found at gameofcyvasse.com. Credit for these rules goes to Dylan Wreggelsworth.
Two different options are available at purchase. Normal Quality and High Detail. Normal Quality is printed at .20 layer height and High Detail (pictured) is printed at .10 layer height.
A sense of scale- The keep (castle) is 45mm (1.75 inches) tall The elephants are 37mm (1.5 inches) tall The player screens are 110mm (4.3 inches) tall
Designed by Dutchmogul and KelTheMaker on Thingiverse- things 92172 and 707788