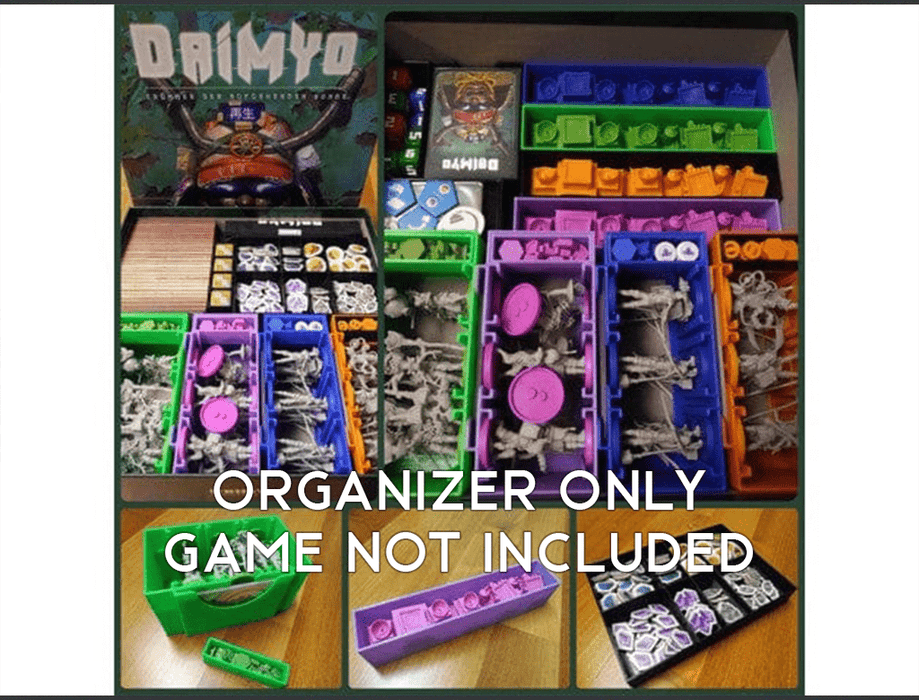 Daimyo Board Game Insert / Organizer
Original price
$48.00
-
Original price
$48.00
This listing is for the boardgame insert / organizer only. Pictured board game is an example only. Game not included.
This is an organizer for the boardgame Daimyo - Rebirth of the Empire.

The main reason to design this was to avoid using 2 or 3 boxes while still using the miniatures. So basically you use the bottom of the miniatures box and the top of the base game box. Works perfectly this way and also vertical storage is no problem.

NOTE: This one works with sleeved cards, but only very tightly fitting sleeves like Docsmagic perfect fit or Swan Panasia. Wider or Premium thickness sleeves will NOT fit!
Includes: 
4x Color + Color_Token - One for each faction to store minis, starting cards, and tokens
4x Buildings - One for each faction to store the buildings
1x Setup - Stores components used during setup
1x Goals - Stores goal cards and the remaining cardboard tokens
1x Res - Stores all resources
1x Bonus - Stores the bonus tiles separated by type
This product was designed by Fabmaszter on Thingiverse and printed in non-toxic PLA. We have a licensing agreement set up with him so he receives some of the proceeds from the sale of his designs.