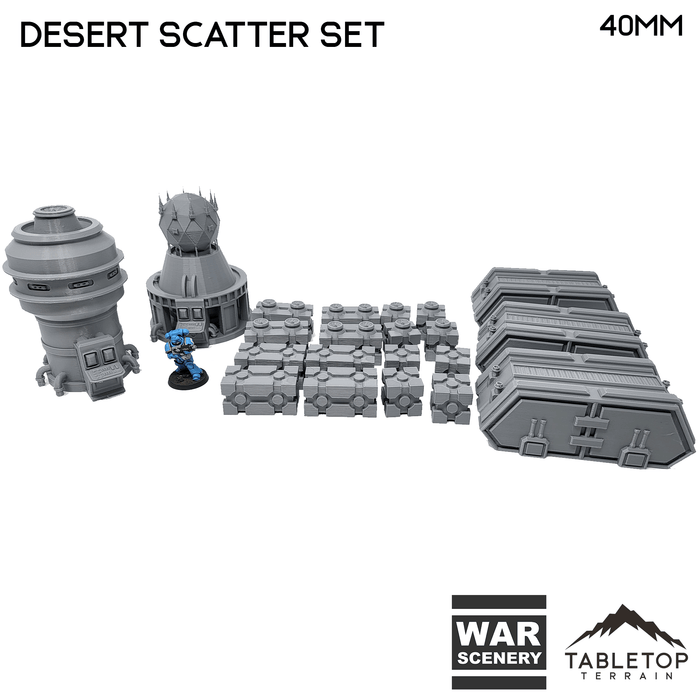 Desert Scatter Set
Original price
$10.00
-
Original price
$85.00
The Desert Scatter Set contains storage crates as well as fuel storage and generator buildings. Stylized for a variety of table scenes, use this set for adding character and definition to any battlefield or town. The scatter set is printed in 40mm, 28-35mm (1:47), 20mm, and 15mm scale. We recommend the 40mm scale for Shatterpoint and the 28-35mm (1:47) scale for Legion. 
-What's Included:
1 Desert Scatter Set: 3 large crates, 16 small crates, fuel storage and a shield generator, 21 pieces. 
Measurements:
3 Large Crates:
40mm: 

263x326x50mm / 10.3x12.8x1.9 inches




28-35mm: 118x59x43mm / 4.6x2.3x1.7 inches




20mm: 83x37x30mm / 3.2x1.5x1.2 inches




15mm: 139x171x26mm / 5.5x6.7x1.0 inches



 16 Small Crates:
Largest Crate 40mm: 53x27x34mm / 2.1x1.1x1.3 inches




28-35mm: 47x23x30mm / 1.8x0.9x1.2 inches




20mm: 33x16x21mm / 1.3x0.6x0.8 inches




15mm: 28x14x18mm / 1.1x0.5x0.7 inches



 Fuel Storage:
40mm: 80x106x132mm / 3.1x4.2x5.2 inches




28-35mm: 70x93x116mm / 2.8x3.7x4.6 inches




20mm: 49x65x81mm / 1.9x2.6x3.2 inches




15mm: 80x106x132mm / 3.2x4.2x5.2 inches



 Shield Generator:
40mm: 97x112x125mm / 3.8x4.4x4.9 inches




28-35mm: 86x98x110mm / 3.4x3.9x4.3 inches




20mm: 60x69x77mm / 2.4x2.7x3.0 inches

15mm: 51x59x66mm / 2.0x2.3x2.6 inches



 All items come unpainted in non-toxic gray PLA. Some assembly may be required. We inspect all of our products prior to shipment, but due to the nature of 3d printing, some objects may require some cleanup prior to use. Other print resolutions (print quality) and scale (size) are available by request. This item is designed by War Scenery and is available at WarScenery.com.