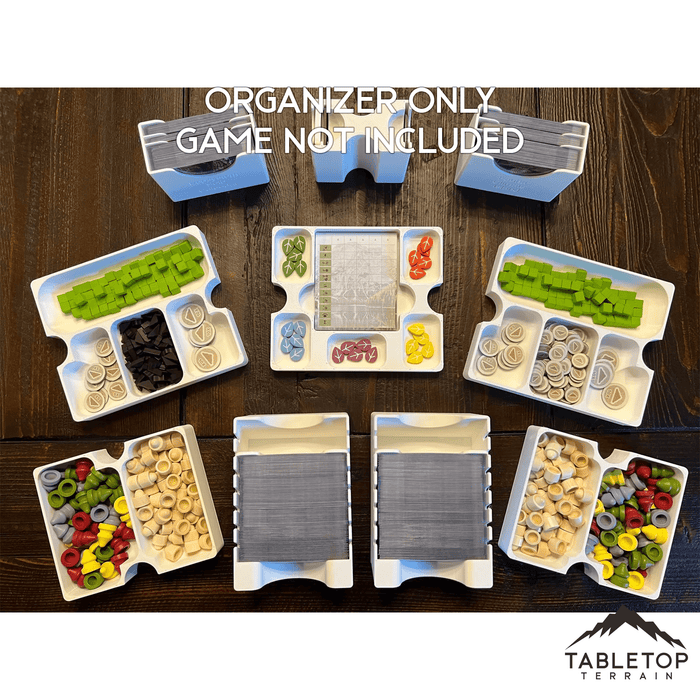 Earth and Kickstarter Extras Board Game Insert / Organizer
Original price
$60.00
-
Original price
$60.00
Organizer/insert only. Does not include the board game!
This is an insert / organizer for Earth, including the Kickstarter upgrades (wooden soil tokens, wooden leaves, wooden active player token, and calendar cards).  It all fits in the base box, has no lid lift, supports premium sleeves on the cards (Gamegenic Prime sleeves shown in the images), supports vertical storage, and was designed to aid setup and teardown.  Here are some features of the insert:
*  Two of each of the primary trays, one for each end of the table, including two earth card trays, two growth/canopy token trays, and two soil/sprout trays.
*  Card trays can be laid flat on the table like card shoes or may be set up vertically, as shown in the photos.  When laid flat, discards can be placed directly behind the divider to keep the table neat.  Just move the divider forward as the draw pile is depleted.
*  Holds both the Kickstarter upgraded active player token and the cardboard active player token.
*  Player setup tray can hold the Kickstarter upgraded leaves, with plenty of room for the cardboard leaves as well (in case you like to use those for other purposes in the game, such as tracking goals).
*  The wells on the soil and sprout trays are larger than needed for the stock and Kickstarter upgraded components.  Given the popularity of this game, I suspect there will be many options for upgrading the soil tokens in the future.  While it is impossible to know if those future upgrades will fit, making the wells larger now increases the odds that they will fit.  The photos currently show the entire set of Kickstarter wooden soil tokens in one of the trays and the entire set of 1-value cardboard soil tokens in the other tray.
*  The card trays for the island, climate, fauna, ecosystem, solo, and calendar cards are labeled to show where each type of card belongs.
Designed by JS5002 on Printables. We have agreement with him to sell his designs in exchange for a royalty. -https://www.printables.com/model/449323-insert-organizer-for-earth-board-game-also-holds-k