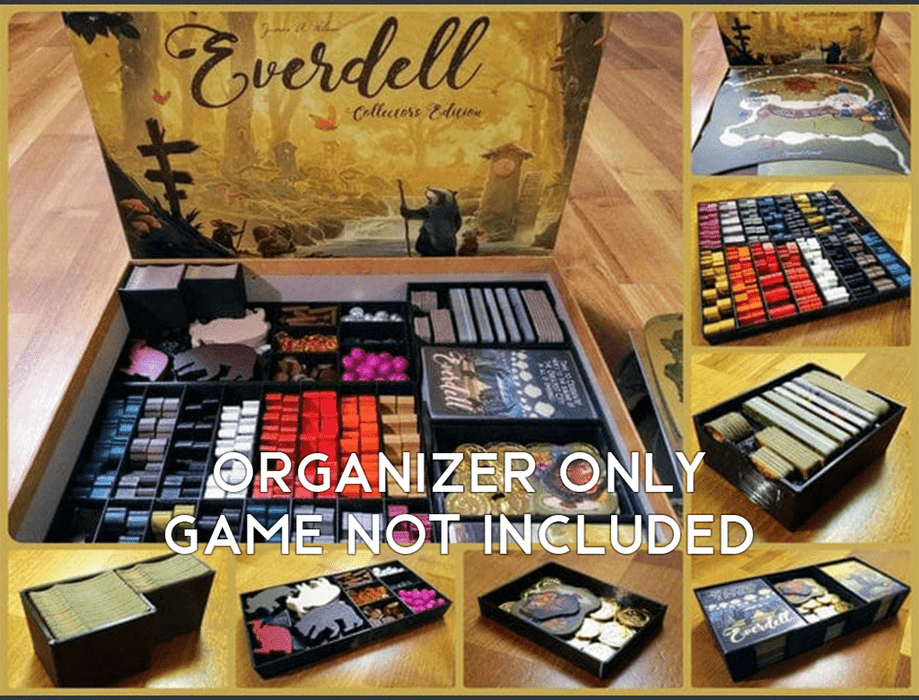 Everdell with first 3 Expansions Board Game Insert / Organizer
Original price
$44.00
-
Original price
$44.00
This listing is for the boardgame insert / organizer only. Pictured board game is an example only. Game not included.
This is an organizer for the boardgame Everdell and the first 3 of its expansions (including CE and KS stuff).
It was quite the challenge to squeeze everything into the main box but I am pretty happy with the result! The only things that I couldn't manage to fit in are the 3D wonders and open/closed signs from the Pearlbrook expansion.
Includes:
Critters: Holds all critter meeples with the respective frog/rabbits and also the saddles for the mounts.
ResMounts: Holds the mounts from Spirecrest and all resources.
SmallCards: Holds all small cards, garland tiles, expedition start tiles, axolotl tiles, and market tiles. It does NOT fit sleeved cards because there are no sleeves that fit well enough for my taste. 
Cards: Holds all regular cards divided into 3 sections.
Points: Holds all point tokens (and some other small stuff that couldn't fit anywhere else) and will go on top of one of the card sections.
Expeditions: Holds all expedition tiles.
This product was designed by Fabmaszter on Thingiverse and printed in non-toxic PLA. We have a licensing agreement set up with him so he receives some of the proceeds from the sale of his designs.