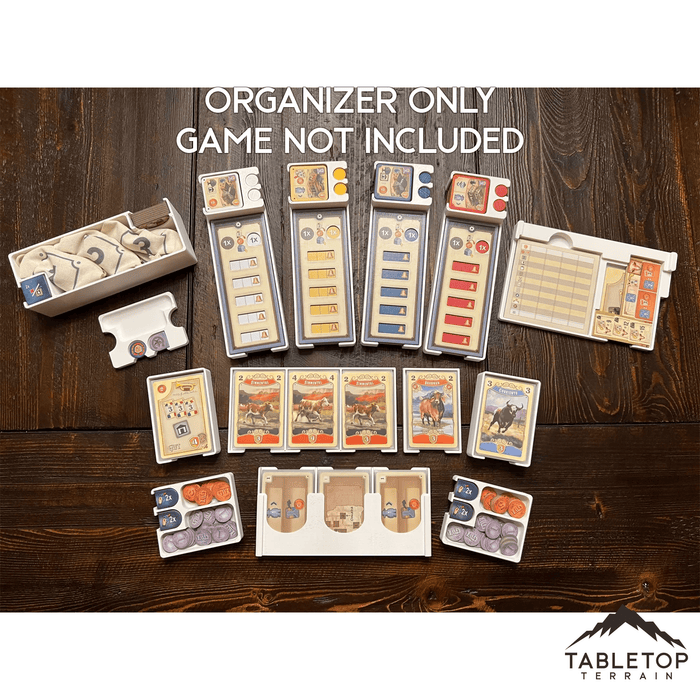 Great Western Trail 2nd Ed. with Rails Board Game Insert / Organizer
Original price
$60.00
-
Original price
$60.00
Organizer/insert only. Does not include the board game!
This is an insert / organizer for Great Western Trail 2d ed. and the Rails to the North expansion. It all fits in the base box, has no lid lift (as long as your player boards are flat), supports premium sleeves on the cards (Gamegenic Prime sleeves shown in the images), supports vertical storage when storing both the base game and expansion, and was designed to aid setup and teardown.  Here are some features of the insert:
*  Individual player trays, which hold each player's starting deck, 2/3 player overlay tile, private building tiles, discs, cowboy meeple with hat, engine, certificate markers, Rails to the North branchlet buildings, and Rails to the North auxiliary board.
*  Two money/exchange token trays, one for each end of the table. 
*  Separate card trays that can be placed on the table during setup, depending on which variants you are using, including:
A Simmental cow card tray;
A Brahman cow card tray;
A base cattle tray; and
An objective card tray.
*  Three setup trays, including:
A tray that holds the 1, 2, 3 bags filled with the 1, 2, and 3 tiles (just fold over the tops of the bags and place them diagonally in the tray as shown – they fit well but it is a bit of a tight fit), neutral building tiles, station master tiles, and medium town tiles from Rails to the North;
A tray that holds the scoring sheet, objective cards to be used when using one of the orange cow variants, and the orange cattle market tile; and
A tray that holds the job market token and the solo board token, with a bit of extra room for other tokens, if you have any.
*  A solo tray that holds the base game solo cards and the solo cards from Rails to the North.
Designed by JS5002 on Printables. We have agreement with him to sell his designs in exchange for a royalty. -https://www.printables.com/model/414063-great-western-trail-2d-ed-with-rails-to-the-north-