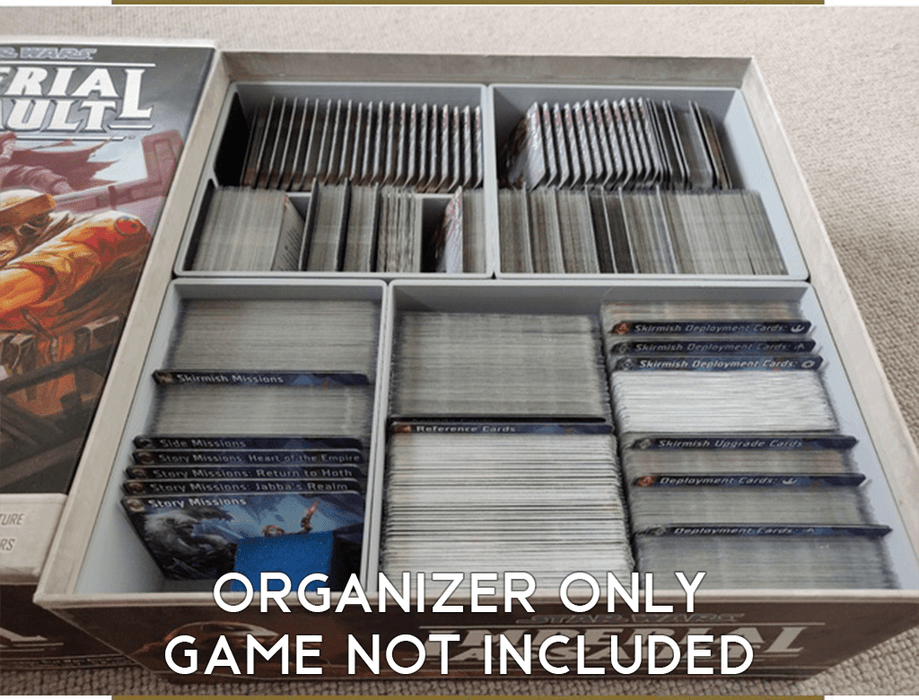 Star Wars Imperial Assault and Expansions Board Game Insert / Organizer
Original price
$94.00
-
Original price
$94.00
Organizer/insert only. Does not include the board game!
This is an insert for the main components and cards for FFG's Star Wars - Imperial Assault IA, with a view to ease of game setup; you should just be able to take the various pots out of the box and be ready to go. Be advise- the minis do not fit in this insert. It incorporates space for all current expansions (up to Tyrant's of Lothal). It is designed to fit in the larger base game box (internal dimensions: 287 x 287 x 132). Note there is still some space left at the top of the box (about 19mm) that could be used for storing the rulebooks.

The card holders support sleeved cards - I use MayDay standards. I cannot comment on whether premium sized sleeves will fit, you will need to measure your sleeved cards and compare with the dimensions of the spaces on the .stl files.

A set of card-dividers are included on the Thingiverse page that you can print out to help catalogue everything.

There are four player trays that can be used to keep each hero's current class deck and purchased cards and equipment. Similarly, the Imperial player has a tray for keeping the Agenda deck, mission deck, Imperial class cards and purchased cards.

We also have an organizer to store the map storage tiles, check our store page. 
Designed by JGRG1 on Thingiverse. We have agreement with him to sell his designs in exchange for a royalty. - https://www.thingiverse.com/thing:4257398