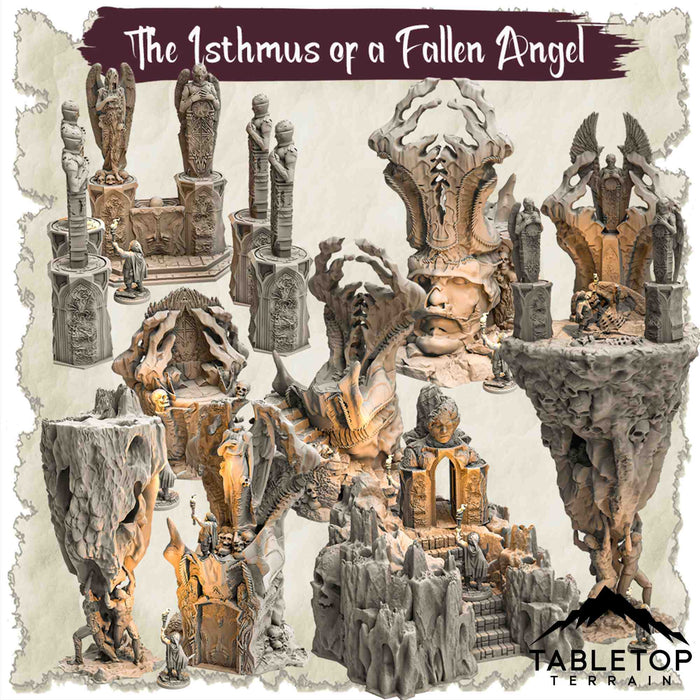 Isthmus of a Fallen Angel - Thematic Dungeon Terrain
Original price
$7.00
-
Original price
$276.00
The Isthmus of a Fallen Angel is a set of thematic dungeon terrain. Comprised of multiple pieces, you can create a full dungeon experience from this set. It combines fantasy and science fiction details, making it great for either genre. 

All items are creating with variable resolution, from .07mm to .15mm depending on required detail. Detailed size information available upon request. Pictured miniature and terrain is in 28mm scale. 
-What's Included 
Full Set - 1x of everything at a 15% discount
Guardian Crypt - 4 pedestals, an altar, 4 ancient guardians, a winged death keeper, and winged ancient guardian
Altar of the Forgotten - the most stunning piece of the set, a tall standing altar upon the mountain of the forgotten
Crypt of Sargeras - a pathway leading up a mountain with a pedestal at the top
Mages Crypt - tall standing Mage crypt
Sorcerer's Tower- tall standing Sorcerer tower
Scale of Giants - an alternative top to the base of a smaller version of the mountain of the forgotten
Crypt Entrance - an icon signifying the pathway down into the dungeon 
Giant Throne - a giant throne with large face on the back
All items come unpainted in non-toxic gray PLA. Some assembly may be required. We inspect all of our products prior to shipment, but due to the nature of 3d printing, some objects may require some cleanup prior to use. Other print resolutions (print quality) and scale (size) are available as requested. This item is designed by Sawant3D and is part of the Hidden Places I set.