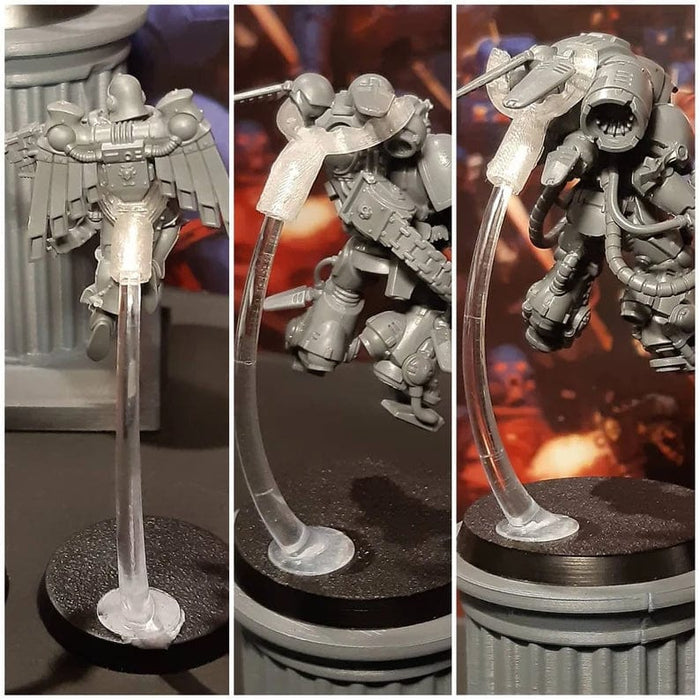 JUMP TOPPPERS 18/24pk - Non-Permanent Adapter for Jump Infantry stands
Original price
$16.00
-
Original price
$16.00
A quick, simple and clean solution to those who want to mount their jump infantry models onto their stands. Hobbyists are always asking how to attach their airborne infantry figures onto their clear stands. Currently, for the average modeller there is little choice other than to super glue your finished model to its stand and hope for the best that it survives a trip in your figure case and the tests of battle on the tabletop. With these adapters you need not worry about painstakingly drilling and pinning, buying and gluing magnets or building up some terrain feature for your models to tip-toe onto. These keep the same alignment as they would do originally and can even be twisted or clipped onto other parts of the figure to give you more options for posing.

PhoenixForge AU developed alongside other hobbyists these clip adapters i call 'Jump Toppers'. They are quick to assemble and attach, sturdy enough to hold your model in place and easy to remove when its time for packing up. Being able to keep the stand and the model separate during transport ensures that neither will break and need re-gluing (which becomes harder the more times you do this).
Demo video here:
https://www.facebook.com/1419325898197022/posts/2583713785091555/

These are available in the following by choosing from 1 of 2 options:
*18* Heavy Marine Toppers
24 Sisters Toppers
Developed by PhoenixForgeAU. We are working with him to provide North American Distribution.