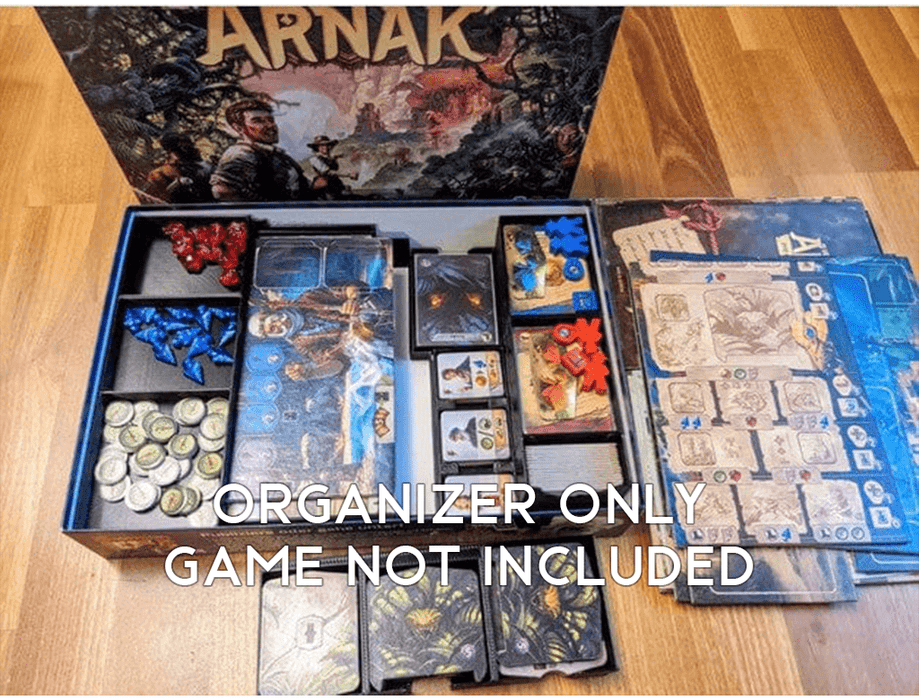 Lost Ruins of Arnak + Expansion Board Game Insert / Organizer
Original price
$48.00
-
Original price
$48.00
This listing is for the boardgame insert / organizer only. Pictured board game is an example only. Game not included.
This is an organizer for the boardgame Lost Ruins of Arnak and it's expansion Expedition Leaders. It supports sleeved cards and vertical storage. It helps with setup and teardown and most boxes can be used right on the table.
Includes: 
4x Player - Holds cards and player pieces
2x Cards - Holds the artifacts and character card stacks
1x Cards_exp - Holds the items
1x Solo - Holds the solo tiles
1x Assistants_exp - Holds the assistant tiles
1x Fear_exp - Holds the fear cards
1x Scorepad_exp - Holds scorepad, moon staff, and first player marker. and possibly a pen :)
1x Setup_exp - Holds everything only required during setup
2x Res_Single - Holds jewels and reserve tiles
2x Res_Double - Holds tablets, coins, compasses, and arrowheads
1x Spacer_exp - Keeps all the other boxes in place and will eventually provide room for expansions
1x Tiles_exp - some of the warden tiles need to go on top of the level 2 tiles for storage.
This product was designed by Fabmaszter on Thingiverse and printed in non-toxic PLA. We have a licensing agreement set up with him so he receives some of the proceeds from the sale of his designs.