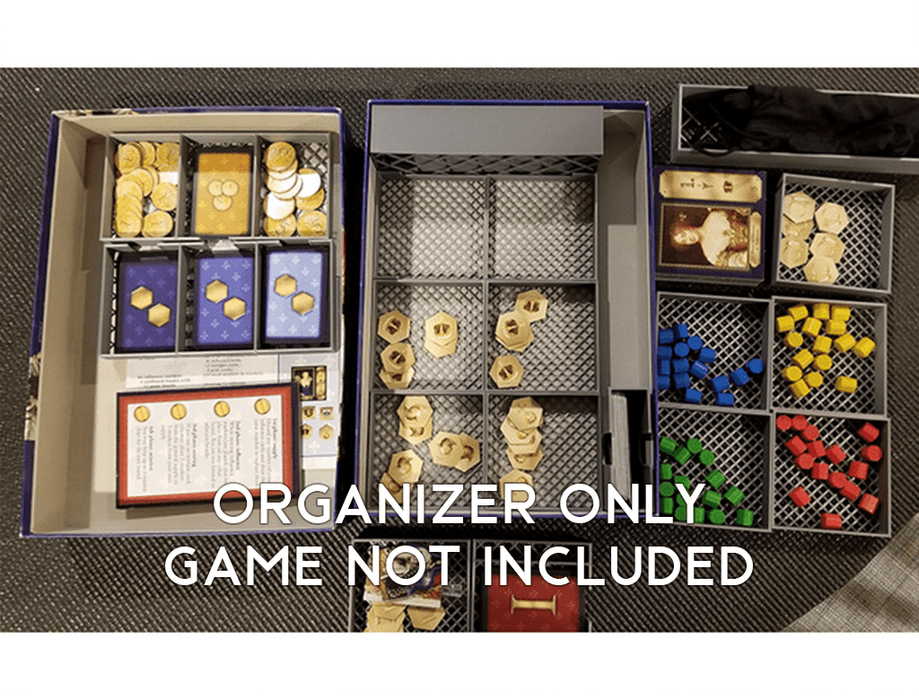 Louis XIV + The Favorite Expansion Board Game Insert / Organizer
Original price
$38.00
-
Original price
$38.00
This listing is for the board game insert / organizer only. Pictured board game is an example only. Game not included. Pictures shows mesh box bottoms, our insert features fully solid bottoms. We think the stability and sturdiness is worth a little higher price. 
Louis XIV and The Favorite Expansion insert and table organizer. This insert is really designed more to aid set up and tear down than anything else -- more of a table organizer than a good use of space inside the box.

This is designed to speed set-up. Most of the trays are designed to fit inside the spaces between/around the court followers. So, lay out the court followers according to the rules, and then place the trays, with their bits already in them, in the appropriate locations. Also helps keep everything all squared up.

I use the Big Spacer on the side to store a bag with the coat of arms chits inside for blind draws instead of the face down shuffle. These pieces can easily fit in the two "Short" trays used to store the Cards for the Favorite expansion if divided between the two trays.

My cards are not sleeved, but I believe it will fit sleeved cards. (As always, it depends on the thickness/quality of the sleeves you're using. If they're high quality, the stack may not fit top to bottom.)



This product was designed by Patella on Thingiverse and printed in non-toxic PLA. We have a licensing agreement set up with him so he receives some of the proceeds from the sale of his designs.