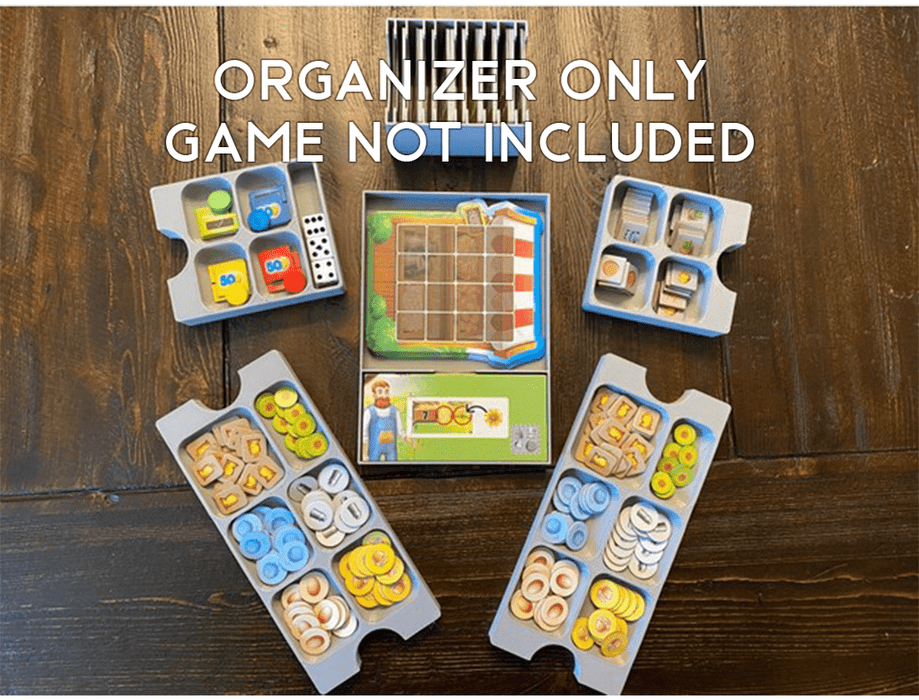 My Farm Shop Board Game Insert / Organizer
Original price
$38.00
-
Original price
$38.00
Organizer/insert only. Does not include the board game!
This is an insert / organizer for My Farm Shop. Everything fits tight in the box so you can store the box vertically and it passes the upside-down shake test. It improves setup and teardown times by providing two resource trays that can be placed at each end of the table and used during the game. The transport tiles also have their own tray if you decide to play with the farmer module. The setup trays are separate and can stay in the box if you'd like.

In the card tray, the slots are designed to hold the cards in the following order:

Starting Fields
Level 1 Fields
Level 2 Fields
Level 3 Fields
Level 4 Fields
Level 5 Fields
Level 6 Fields
Yellow Jump Start Cards
Goal Module Cards
Farmer Card

I believe the cards should fit sleeved. The slots are large enought to accommodate the additional height and width that card sleeves add. For the thickness, I measured the actual thickness of the cards, doubled it, and then added 2 mm for each slot. If you sleeve your cards and they fit well (or don't), please let us all know in the comments.
Designed by JS5002 on Thingiverse. We have agreement with him to sell his designs in exchange for a royalty. - https://www.thingiverse.com/thing:5145561