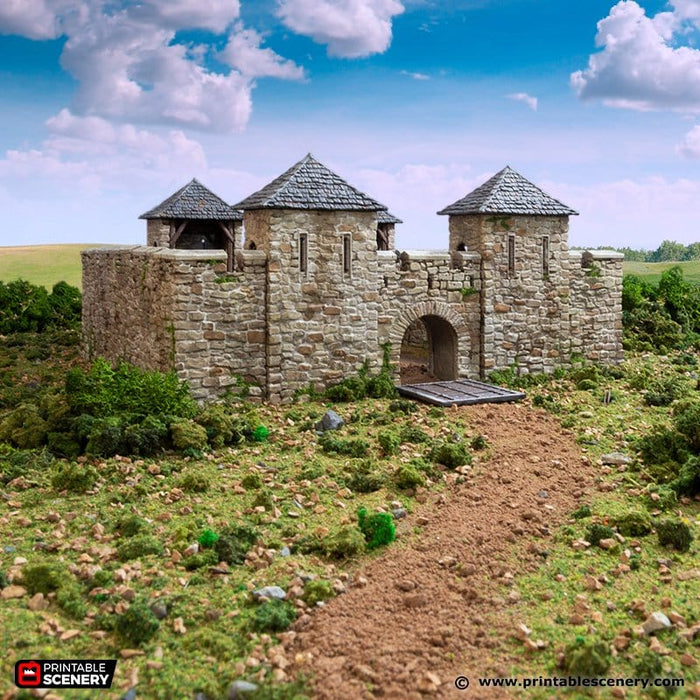 Norman Fort Walls / Ruined Fort Walls - Country & King- Fantasy Historical Walls
Original price
$0.01
-
Original price
$302.00
Norman Forts were widespread across Europe, providing safety and security against their rivals and the Saxons. They were often quickly built on strategic sites with the more important and permanent buildings coming later. 
This set of Walls are all interchangeable and can be used to create the pictured design or fit your specific needs. Available in ruined or intact versions, we can also create a custom set for you if you send us a message. 
The Fort would work great for historical games, such as WII Bolt Action, Flames of War or Fields of Glory. It would also work great for Fantasy RPG games such as DND, Age of Sigmar, Kings of War, or Conquest. The walls are printed in 32mm, 28mm, 20mm or 15mm scale with other scales available upon request. 
-What's Included 
1 Norman Fort that comes in 14 pieces. 
In 32mm scale, the pictured fort measures 388x496x175mm / 15.3x19.5x6.9 inches.
In 28mm scale, the pictured fort measures 340x435x154mm / 13.4x17.1x6.1 inches. 
In 20mm scale, the pictured fort measures 238x305x108mm / 9.4x12.0x4. inches.
In 15mm scale, the pictured fort measures 204x261x92mm / 8.0x10.3x3.6 inches.
All items come unpainted in non-toxic gray PLA. Some assembly may be required. We inspect all of our products prior to shipment, but due to the nature of 3d printing, some objects may require some cleanup prior to use. Other print resolutions (print quality) and scale (size) are available as requested. This item is designed by Printable Scenery as a part of their Country & King set. printablescenery.com. Tabletop Terrain is a licensed printer of Printable Scenery.