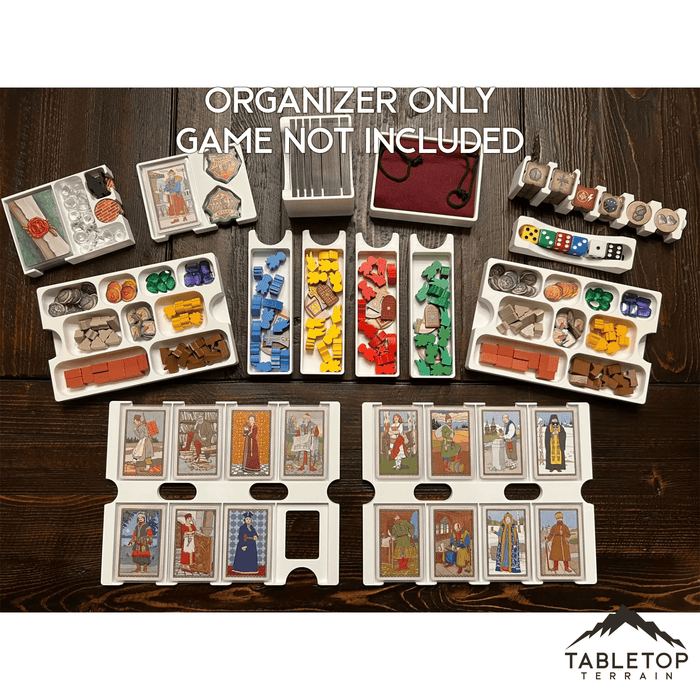 Red Cathedral with Contractors Expansion Board Game Insert / Organizer
Original price
$40.00
-
Original price
$40.00
Organizer/insert only. Does not include the board game!
This is an insert / organizer for The Red Cathedral with the Contractors expansion.  It uses both boxes, primarily placing the boards in one box and the other components in the other.  It supports premium sleeves on the cards (Gamegenic Prime sleeves shown in the images), supports vertical storage, has no lid lift on either box, and was designed to aid setup and teardown.  Here are some features of the insert:
*  Individual player trays.
*  Two resource trays, one for each end of the table.
*  Two guild trays that let you quickly see all of the guild cards, making it easy to select the guild you would like.  The trays also fit the Thieves' Guild promo set from Promo Pack 1, and there is room for one more promo guild if they release one.
*  Some of the guilds require extra components, such as the diamonds, contract cards, foreman meeple, and brick tiles.  These are collected into a single guild resource tray.
*  The cathedral card tray is labeled to identify where to put the cards, with separate slots for the 2-, 3-, and 4-player cathedral setup cards, as well as the base, center, and dome cathedral cards.
*  A tray to hold the Contractors bag, which can remain filled with the contractor tokens during storage.
*  A tray to hold the resource and workshop tiles.  It has the following slots:
          (a) 2-player+ workshop tiles;
          (b) 3-player+ workshop tiles;
          (c) Promo workshop tiles (from Promo Pack 2);
          (d) Contractors workshop and resource tiles; and
          (e) Two slots for the base game resource tiles.
*  Plenty of finger holes to make it easy to get the trays and boards out of the insert.
Designed by JS5002 on Printables. We have agreement with him to sell his designs in exchange for a royalty. -https://www.printables.com/model/322577-red-cathedral-with-contractors-expansion-insert-or