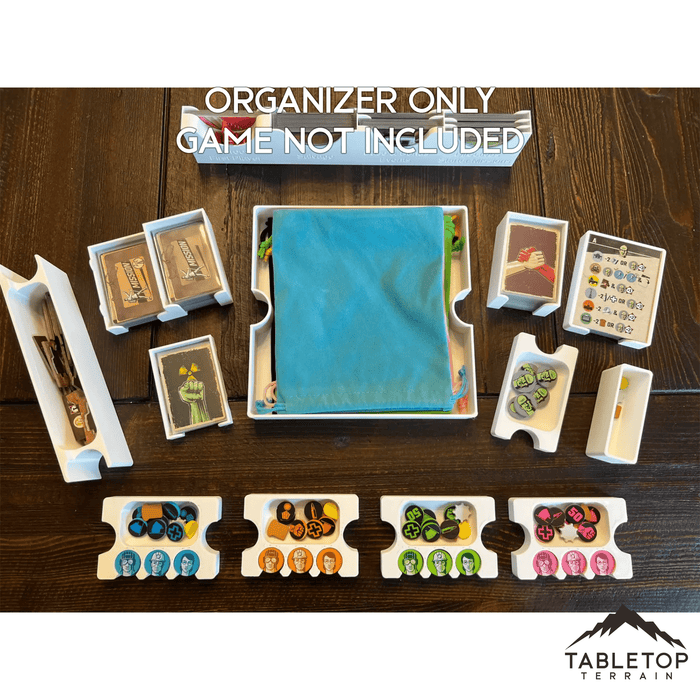 Resurgence Board Game Insert / Organizer
Original price
$60.00
-
Original price
$60.00
Organizer/insert only. Does not include the board game!
This is an insert / organizer for Resurgence.  It supports premium sleeves on the cards (Gamegenic Prime sleeves shown in the images), supports vertical storage, has no lid lift, and was designed to aid setup.  Here are some features of the insert:
*  Individual player trays.
*  A separate solo tray that holds the solo cards and the solo tile.
*  A bag tray to hold all of the player bags and the black bag for the encounters expansion.  Store your hero and laborer survivor tokens in their respective player bags (i.e., the tokens that all start the game in the bag), and store the encounters expansion's beast tokens, stalker token, and encounters tile in the black bag.
*  There are two types of cards in Resurgence:  (1) those that you shuffle, select a subset, and return the rest to the box; and (2) those that you place the entire set on the table.  This insert has two different types of card trays depending on the which category the cards fall into.  For the cards in category (1), they are stored in individual slots in a long vertical card tray.  You take what you need from this tray, place the remainder in the tray, and return it to the box to save table space.  The cards in category (2) are in flat horizontal trays that you can place directly on the table and draw from throughout the game.
*  Labels on the long card tray to show you where each type of card resides.  There are separate slots for:
Hero cards
First player marker
Salvage cards
Event token
Base event cards
Bonus event cards
Starter mission cards
Directive A cards
Directive B cards
*  A small tray for holding the spare parts that came with the game.
*  Plenty of finger holes to make it easy to get the trays and boards out of the insert.
Designed by JS5002 on Printables. We have agreement with him to sell his designs in exchange for a royalty. -https://www.printables.com/model/304447-resurgence-insert-organizer