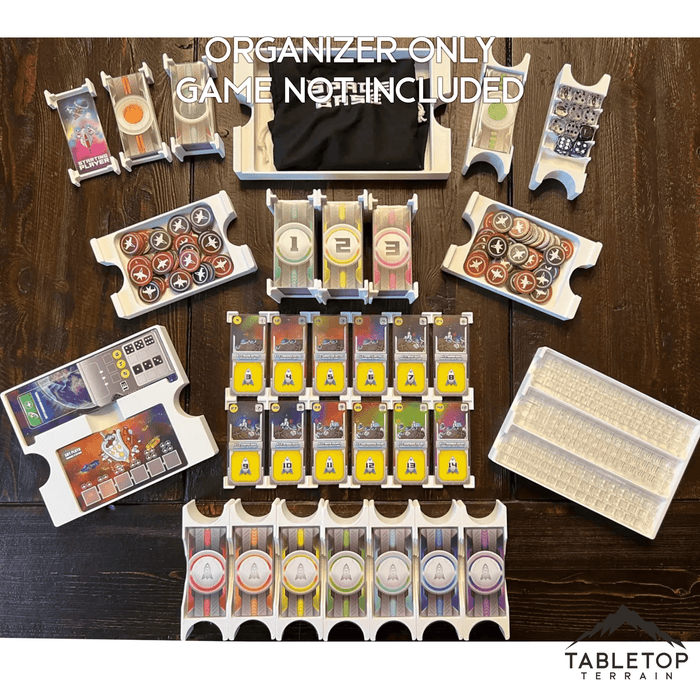 Space Base with Expansions Board Game Insert / Organizer
Original price
$55.00
-
Original price
$55.00
Organizer/insert only. Does not include the board game!
This is an insert / organizer for the Space Base Command Station box. It holds the base game, Emergence of Shy Pluto, Terra Proxima, Biodome, Dreadnaught Pack, and Dead Reckoning Promos. Here are some features:

* Individual player trays for storing the starting cards; pre-deployed sector 7 and 8 cards; VP, income, and money markers; charge cubes; forecast cubes; and player dice.

* Two ship token trays, one for each end of the table.

* Two trays for holding the base colony cards. These can come straight out of the box and are already set up for play. When using the alternative colony cards from Biodome or the Alien Colonies in Terra Proxima, I shuffle and choose six alternative colonies. I then place those over the existing base colonies that are already on the grid, flipping over the base game colony cards to show that they are out of play.

* Space for seven sets of acrylic overlays from BoardGameBoost, which help prevent the VP, income, and money markers from sliding if the table is nudged. Similarly sized 3D printed or other acrylic overlays should also fit. And if you don't have these overlays, you could use the tray to hold something else.

* Support for the sleeves provided with the Command Station, as well as support for sleeves from Sleeve Kings.

* Supports vertical storage.

* Cutouts for the manuals so they act as lids on some of the trays.

* No box lid lift.
Designed by JS5002 on Printables. We have agreement with him to sell his designs in exchange for a royalty. - https://www.printables.com/model/204480-space-base-insert-organizer-holds-all-released-exp