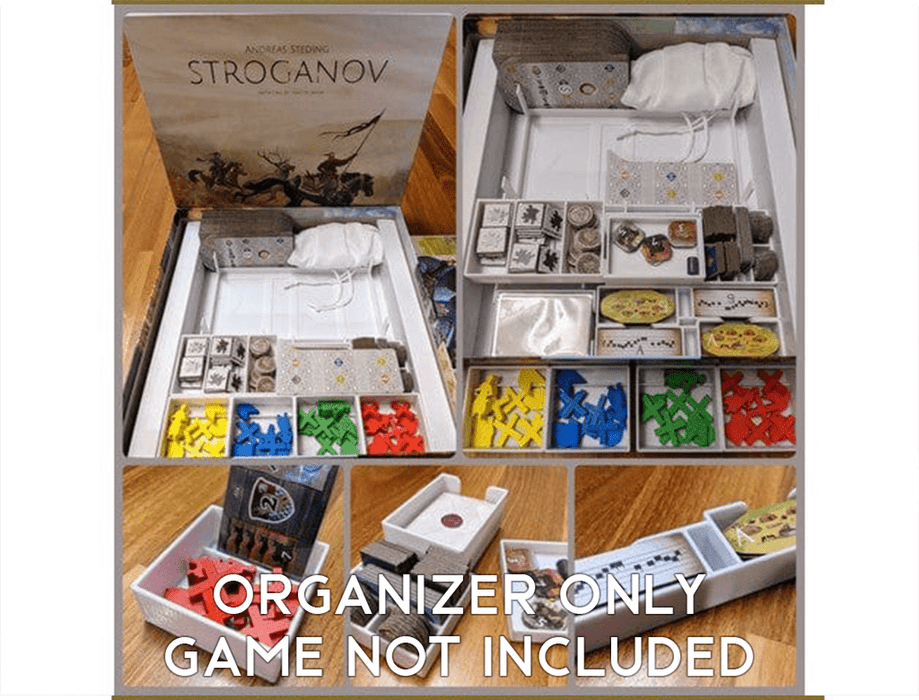 Stroganov Board Game Insert / Organizer
Original price
$28.00
-
Original price
$28.00
This listing is for the boardgame insert / organizer only. Pictured board game is an example only. Game not included.
This is an organizer for the boardgame Stroganov in the retail edition.
It works with sleeved cards and supports vertical storage! There is no lid lift, check the pictures for details on how to store everything.
Includes: 
4x Player - Holds all player pieces and can be used during play to hold your cards and tokens.
2x Tokens - Holds the song and yurt tokens (separated by A and B) and can be placed directly on the board.
2x Cards - Hold the wish cards (separated by A and B) and can be placed directly on the board.
1x Res - Holds horses and money to be used during the game.
1x Setup - Holds pieces that are only used during setup. The banners are separated for 2, 3 and 4 player games.
1x Start - Holds the starting fur tiles and the season marker. this one is optional, you can also just put it directly on the cards in the setup box.
1x Spacer1 - This one keeps the other boxes in place and from shifting around.
1x Spacer2 - This one basically keeps the other spacer and the landscape tiles in place.
This product was designed by Fabmaszter on Thingiverse and printed in non-toxic PLA. We have a licensing agreement set up with him so he receives some of the proceeds from the sale of his designs.