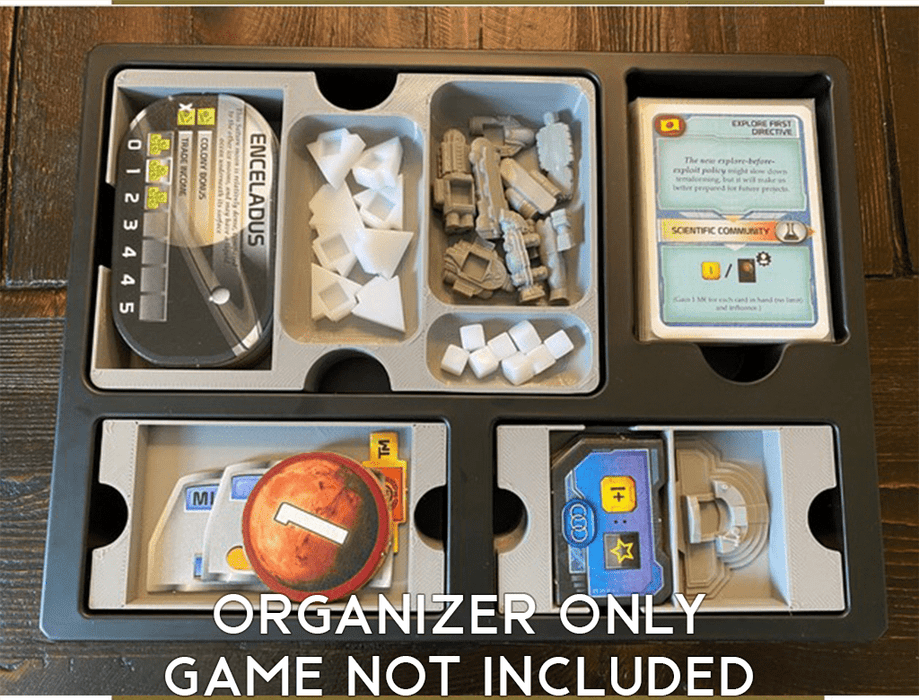 Terraforming Mars Big Box Trays Board Game Insert / Organizer
Original price
$33.00
-
Original price
$33.00
Organizer/insert only. Does not include the board game!
These trays fit in the Terraforming Mars Big Box to provide some additional organization to the components. There is also made a replacement for the small card box, which was too narrow to fit my sleeved cards. This new box holds all my Prelude and Corporation cards in premium Dragon Shield matte sleeves. It is a bit of a tight fit, but the well in the Big Box does not leave excess room.

Aside from the small card holder, the trays all fit in the wells of the expansion tray in the Big Box. In one well, place the Turmoil delegates tray on the bottom and the Turmoil policies tray on the top. In another well, place the track markers tray on the bottom and the Venus milestone and award tray on top. By the way, the track markers tray holds the original white cubes, Broken Token acrylic markers, and the new markers that come with the Big Box. Finally, the Colonies tray holds the colony boards, colony markers, upgraded colony ships, and original colony ships.

The trays are designed to hold everything in place when you place the lid on the top of the expansion tray. That expansion tray passes the upside-down shake test when configured as shown (although I would not recommend doing the upside-down shake test on the whole Big Box).
Designed by JS5002 on Thingiverse. We have agreement with him to sell his designs in exchange for a royalty. - https://www.thingiverse.com/thing:4861309