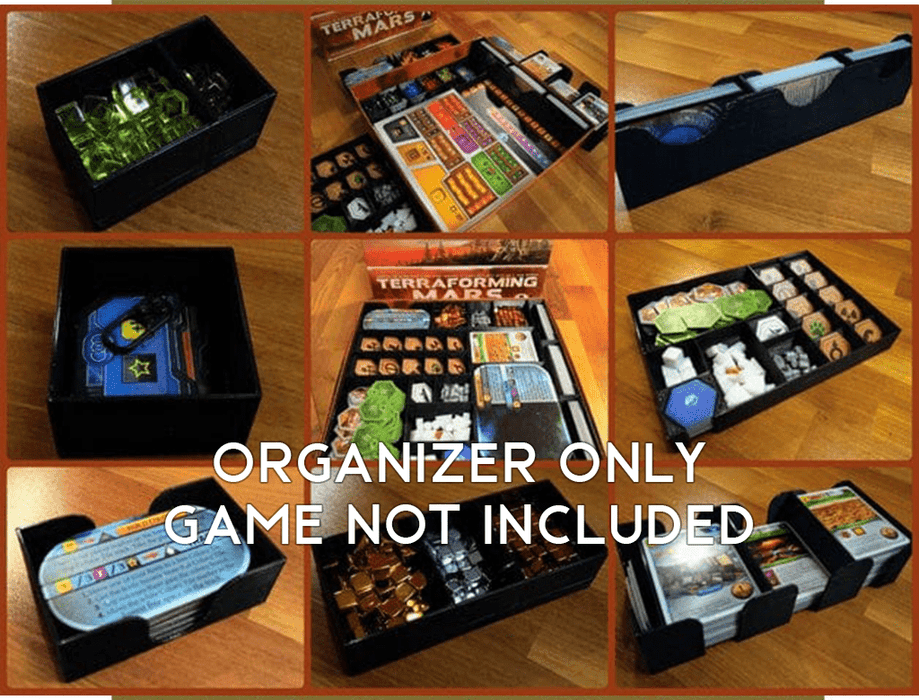 Terraforming Mars with all Expansions Board Game Insert / Organizer
Original price
$55.00
-
Original price
$55.00
This listing is for the boardgame insert / organizer only. Pictured board game is an example only. Game not included.
This is an organizer for the boardgame Terraforming Mars and ALL of its expansions (this includes: Hellas /Elysium, Venus Next, Prelude, Colonies, Turmoil, double layer player boards). It is designed to hold sleeved cards (Sleeve Kings 8810 in my case).
Includes: 
Player: 5 of these. They hold all player cubes and delegates.
Spacer: This fills the gap next to the player boxes and can be used to hold the policy tiles, custom markers, etc.
Res: This holds the resource cubes and can be put on the table for use during play.
Colonies: This holds the colony tiles.
Projects: This holds all project cards. The first player token and Venus overlay tiles go into the small pocket on the side and the bigger trade fleet tile sits on top.
Cards: This holds all other cards sorted by corporations, prelude, events.
Tiles: This holds all of the tiles, neutral delegates, colony ships, etc.
This product was designed by Fabmaszter on Thingiverse and printed in non-toxic PLA. We have a licensing agreement set up with him so he receives some of the proceeds from the sale of his designs.