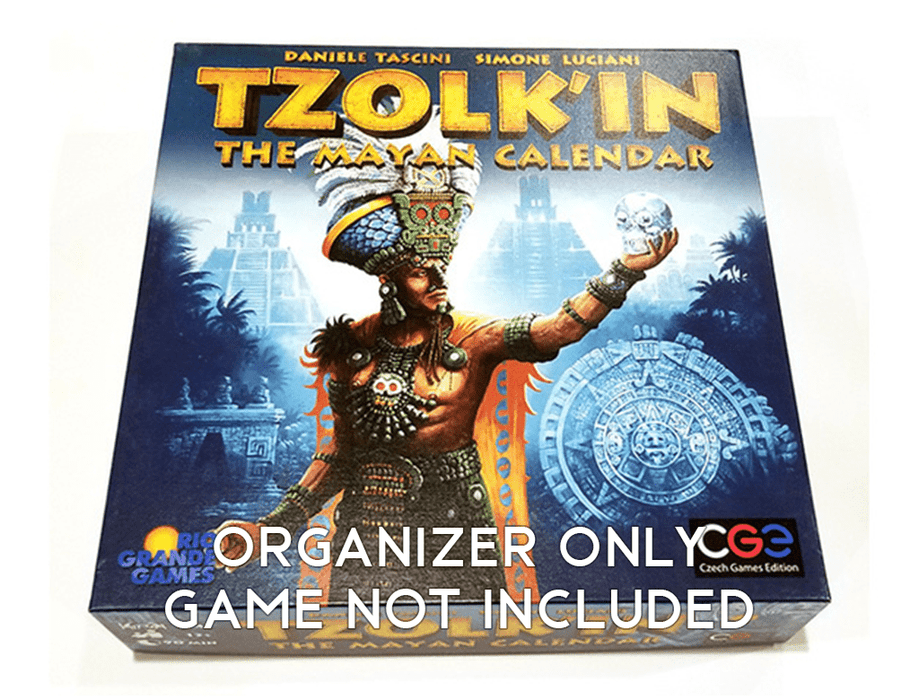 Tzolk'in + Expansions Board Game Insert / Organizer
Original price
$52.00
-
Original price
$52.00
This listing is for the board game insert / organizer only. Pictured board game is an example only. Game not included. Pictures shows mesh box bottoms, our insert features fully solid bottoms. We think the stability and sturdiness is worth a little higher price. 
Tzolk'in insert/Organizer -- fits the Tribes & Prophecies expansion and all mini expansions/promos.

First thing to note: It is VERY important that the pieces of the board be put in the box in a specific way or you WILL get lid lift. It does not have to be exactly the way I show in the photos, but you'll need to do something similar.

Second thing to note: I used a thin piece of cardstock between the insert and the boards simply to help with keeping pieces where I want them. (I actually used a piece of the original "insert".) I store this one horizontally, and I probably don't need it, but it was just such an easy thing to do that I figured, "why not?"

I believe there is plenty of space for extras, but there have been a LOT of upgrades designed for this game, so I can't be positive. I've got the upgraded player pieces, and I made a draw bag for starting wealth. I've also swapped out the cubes for more thematic wood, stone, and gold. Anyway, your mileage may vary depending on what upgrade choices you've made.
This product was designed by Patella on Thingiverse and printed in non-toxic PLA. We have a licensing agreement set up with him so he receives some of the proceeds from the sale of his designs.