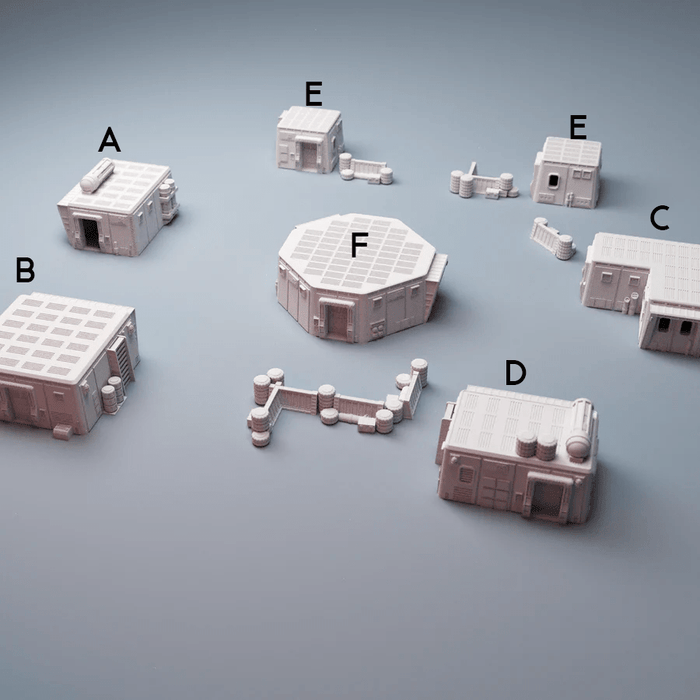 Uladh Starport - A Botched Deal - Stargrave Terrain
Original price
$6.00
-
Original price
$150.00
The Uladh Starport Set is an ideal Sci-Fi settlement or outpost for a "Botched Deal" type scenario. Different shapes and sizes give a great variety to your layout. Each structure has a removable door and roof allowing access to the interior, as well as an external ladder for rooftop access.

-What's Included 

Individual Buildings or full Set based on selection. 

Full set includes 1x of building A, B, C, D, F, 2x of building E, 4 corner barriers and 4 straight barriers. 
Dimensions:
Building A: 32mm- 119x152x83mm / 4.7x5.9x3.3 inches 28mm- 105x134x72mm / 4.1x5.3x2.8 inches 20mm- 73x94x51mm / 2.9x3.7x2.0 inches 15mm- 63x80x43mm / 2.5x3.2x1.7 inches
Building B: 32mm- 154x162x60mm / 6.1x6.4x2.4 inches 28mm- 135x142x53mm / 5.3x5.6x2.1 inches 20mm- 95x100x37mm / 3.7x3.9x1.5 inches 15mm- 81x85x32mm / 3.2x3.4x1.3 inches
Building C: 32mm- 164x152x60mm / 6.5x5.9x2.4 inches 28mm- 144x134x53mm / 5.7x5.3x2.1 inches 20mm- 101x94x37mm / 3.9x3.7x1.5 inches 15mm- 86x80x32mm /  3.4x3.2x1.3 inches
Building D: 32mm- 114x149x82mm / 4.5x5.9x3.2 inches 28mm- 100x131x72mm / 3.9x5.2x2.8 inches 20mm- 70x92x51mm / 2.8x3.6x2.0 inches 15mm- 60x79x43mm / 2.4x3.1x1. inches
Building E: 32mm- 93x99x64mm / 3.7x3.9x2.5 inches 28mm- 82x87x56mm / 3.2x3.4x2.2 inches 20mm- 57x61x39mm / 2.2x2.4x1.5 inches 15mm- 49x52x33mm / 1.9x2.1x1.3 inches
Building F: 32mm- 198x198x64mm / 7.8x7.8x2. inches 28mm- 174x174x56mm / 6.8x6.8x2.2 inches 20mm- 122x122x39mm / 4.8x4.8x1.5 inches 15mm- 104x104x33mm / 4.1x4.1x1.3 inches
Straight Barrier: 32mm- 81x34x29mm / 3.2x1.3x1.1 inches 28mm- 7x3x25mm / 2.8x1.2x0.9 inches 20mm- 50x21x18mm / 1.9x0.8x0.7 inches 15mm- 43x18x15mm / 1.7x0.7x0.6 inches
All items come unpainted in non-toxic gray PLA. Some assembly may be required. We inspect all of our products prior to shipment, but due to the nature of 3d printing, some objects may require some cleanup prior to use. Other print resolutions (print quality) and scale (size) are available as requested. This item is designed by Corvus Games and is available at corvusgamesterrain.com.