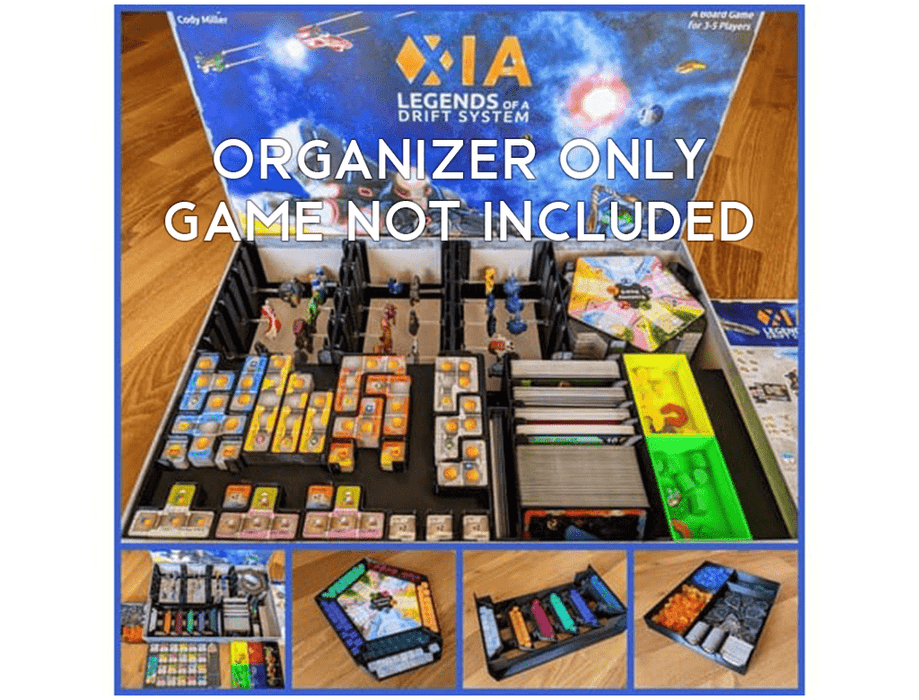 Xia Legends of a Drift System Board Game Insert / Organizer with Expansions
Original price
$67.00
-
Original price
$67.00
This listing is for the boardgame insert / organizer only. Pictured board game is an example only. Game not included.
This is an organizer for the boardgame Xia - Legends of a Drift System and the expansions Embers of a Forsaken Star, Missions & Powers, Sellsword MkII.

It supports sleeved cards (I use Docsmagic Perfect Fit) and vertical storage.
This is for the regular retail version, if you have the Kickstarter version with the thick cardboard shipboards this will cause some box lift since you have to distribute some of the boards on top.
Includes:
6x Player - Holds all Player pieces (including extra sets of dice) and the 6th one hold all additional setup tokens.
1x T1 - Holds all T1 ships
1x T2 - Holds all T2 ships
1x T3 - Holds all T3 ships
1x NPC - Holds all NPC ships and asteroids
1x NPC_Cards - Holds all NPC Cards and player help cards
1x Cards - Holds all remaining cards
1x Outfits - Holds all outfits
1x Ember - Holds the Ember cubes
5x Cargo_Single - Holds the Cargo cubes. They fit together like puzzle pieces and the economy boards fits on top
1x Cargo Spacer - Holds all cargo and ember boxes
1x MoneyDmg - Holds coins, damage tokens, exploration tokens, and relics
1x Systems - Holds all systems, Rikishi and the economy board
This product was designed by Fabmaszter on Thingiverse and printed in non-toxic PLA. We have a licensing agreement set up with him so he receives some of the proceeds from the sale of his designs.