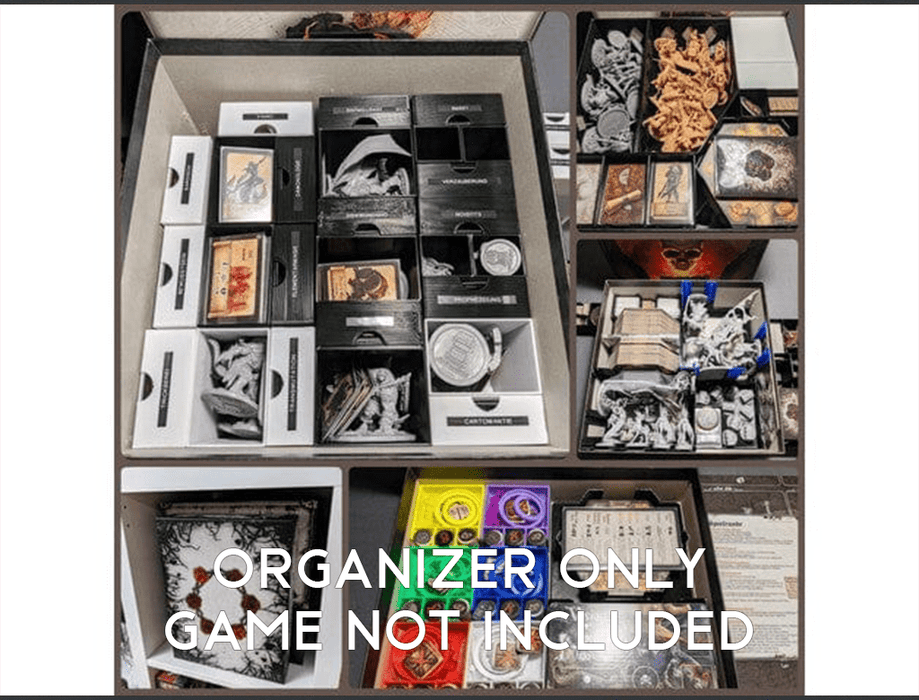 Black Rose Wars + Expansions Board Game Insert / Organizer
Original price
$256.00
-
Original price
$256.00
This listing is for the boardgame insert / organizer only. Pictured board game is an example only. Game not included.
This is an organizer for the board game Black Rose Wars and the expansions Hidden Thorns, Inferno, Sator Box. The school and mage from Chrono also fit but the Chrono miniature does NOT.

It will all fit into the base game, Hidden Thorns, and Inferno boxes.

It works with premium sleeved cards but is probably NOT for you if you want to paint your miniatures!

The main goal with this organizer was quick setup/teardown and to fit it all into one Kallax shelf compartment.

The mage school cards, tokens, and corresponding evocations are all combined into individual boxes so no need to search for them during the game.
This organizer is 9 pounds in just plastic, hence the high price.  
Base Game Box:
5x BRW_Cardbox - Bardic, Mind, Omnia, Necromancy, Conspiracy
7x BRW_Cardbox_Minis - Demonology, Elementarism, Transmutation, Destruction, Chronomancy, Blood, Cartomancy
4x BRW_Cardbox_Minis32 - Void, Illusion, Enchantment, Divination
16x BRW Cardbox_Lid - Lids for all regular boxes
1x BRW_Cardbox_wide - Trickery
1x BRW_Cardbox_wide_Lid - Lid for the Trickey box
2x BRW_Cardbox_Tokens - token tray for Blood and Cartomancy
2x BRW_Minibox_62 - Destruction (2 Malacodas) and Blood (Hashomer + 1 Malacoda)
4x BRW_Minibox_32 - Void, Enchantment, Illusion, Divination
5x BRW_Minibox - Demonology, Elementarism, Transmutation, Chronomancy, Cartomancy
1x BRW_Cards - Quest, Event and general evocation cards
1x BRW_Evocations - "General" evocation miniatures (I also added one Pigman)
1x BRW_Mages - All mage miniatures
1x BRW_Rooms - All base game room tiles and Forgotten spell cards
1x BRW_RoomTokens - All base game room activation tokens, Black Rose score markers/cubes, and first player markers

Hidden Thorns Box:
1x HT_MageCards - All mage custom spells and mage cards
6x HT_Player - All player tokens, cubes
1x HT_PlayerCells - All player cells and the room overview/forgotten cards

Inferno Box:
1x INF_Familiar_Rooms - Room tiles for Familiars
1x INF_Familiars - Familiar minis and tokens
1x INF_Inferno_Minis - All Inferno miniatures
1x INF_Inferno_Rooms - All Inferno room tiles and cards
1x INF_Inferno_Tokens - All remaining Inferno tokens
1x INF_Sator_Minis - All remaining Sator miniatures
1x INF_Sator_Rooms - All Sator room tiles
1x INF_Scenarios - All special components for the Sator scenarios
1x INF_SoloTokens - Solo Black Rose tokens
1x INF_Solo - All remaining components for the solo mode
This product was designed by Fabmaszter on Thingiverse and printed in non-toxic PLA. We have a licensing agreement set up with him so he receives some of the proceeds from the sale of his designs.