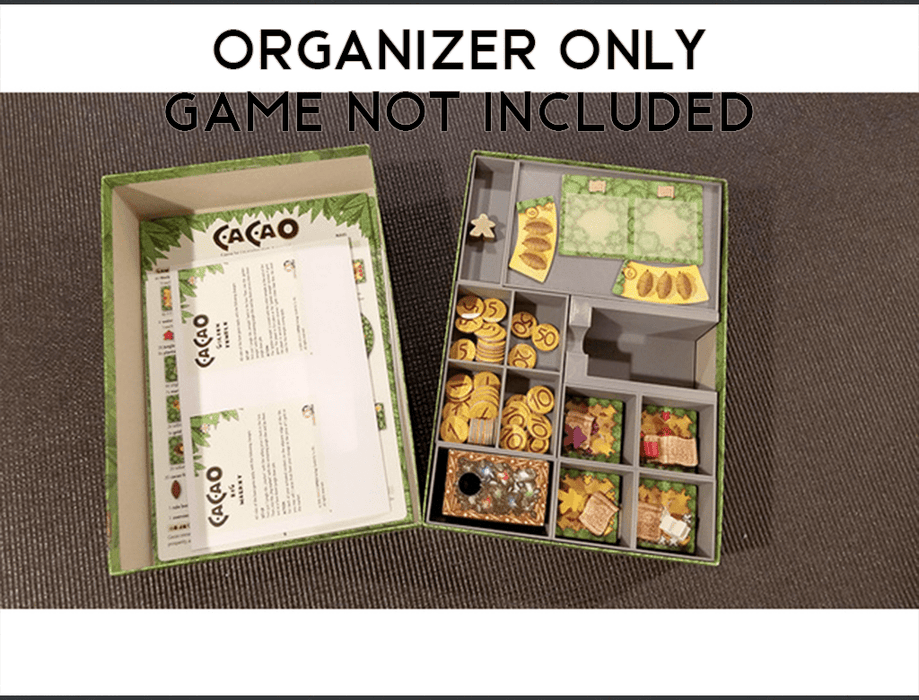 Cacao + Expansions Board Game Insert / Organizer
Original price
$38.00
-
Original price
$38.00
This listing is for the board game insert / organizer only. Pictured board game is an example only. Game not included. 
Most of the Cacao expansions are modular and allow you to add a one or more sets of tiles, but also require you to take similar tiles out of the game for time and game balance. I wanted an insert that allowed me to EASILY identify all the different kinds of tiles so I could see what I wanted to add, or needed to remove. So I designed an insert that allowed for this. Each type of tiles gets it's own spot.

I also designed one of the pieces to hold the gem cart, but realized you can easily hold the gem cart in the dispenser. So, really there are a couple of boxes that, depending on where you store items, may not be necessary other than as space blockers.

I do not have the volcanoes mini expansion, but there should be plenty of room for it. I don't suspect that there will be any future expansions, but if there are, there's also room to either add tiles to existing locations, or add some new tiles spots in place of the gem cart "box" with the addition of a couple of new pieces.

This does meet the shake test. 

This product was designed by Patella on Thingiverse and printed in non-toxic PLA. We have a licensing agreement set up with him so he receives some of the proceeds from the sale of his designs.