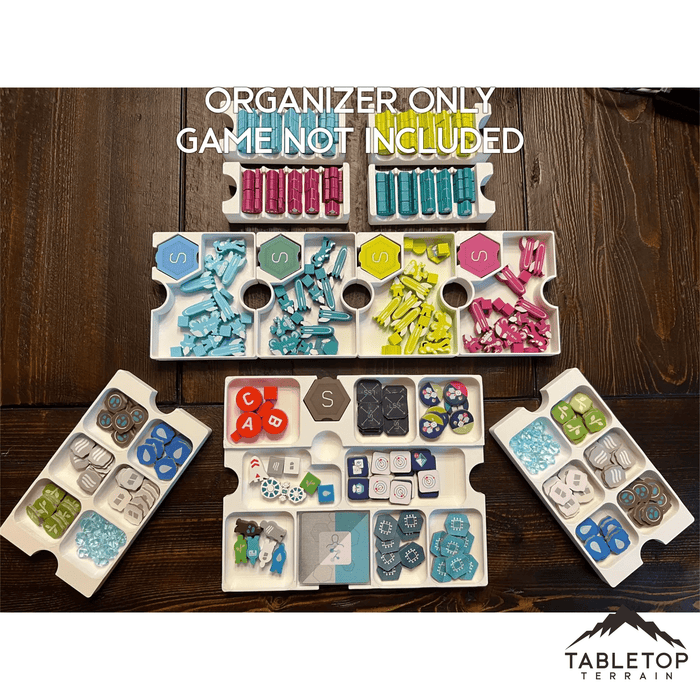 On Mars (Lacerda) Board Game Insert / Organizer
Original price
$60.00
-
Original price
$60.00
Organizer/insert only. Does not include the board game!
This is an insert / organizer for On Mars (Vital Lacerda).  My main goals for this insert were to aid setup/teardown and to better support sleeved cards.  Here are a few features:
*  To help with setup, I created one tray that has all the tokens you need to set up the main board, aside from any player-specific pieces. I also created separate setup trays for each player.  To conserve table space, all setup trays can go back in the box after the game is set up. 
*  There are separate in-game player trays, which hold all of that player's advanced buildings, colonists, and bots that are shown in the manual as being set next to the player board.  These can stay on the table throughout the game.  When the game ends, just fill the slots in your in-game tray and you'll know you have the right number of each component for the next game.
*  For those playing the First Colonists variant, there is a tray that holds all of the First Colonists cards and tiles.
*  One tray holds all the small cards, with separate slots for the private goal cards, mini private goals expansion from the KS upgrade pack, mission cards, and solo cards.
*  Another tray holds all the blueprint cards and the earth contract cards, including those from the KS upgrade pack.
*  There is a new building tile display.  It sits vertically, which saves a bit of table space.
*  One tray holds a bag that I added for the discovery tiles. Instead of shuffling them all and stacking them next to the board, you can just toss them in the bag and randomly draw what you need.  There's also a place in the main board setup tray for the discovery tiles if you prefer not to use a bag. 
*  All trays support sleeved cards.  The depicted large cards are in Dragon Shield clear matte sleeves. The small cards are in Titanshield sleeves.  And the scientist and contract cards are in Dragon Shield clear matte sleeves that I cut down to size.
*  The insert supports vertical storage if you have the KS upgrade pack.
*  There are plenty of cutouts and finger holes to make it easy to get the trays in and out of the box.
Designed by JS5002 on Printables. We have agreement with him to sell his designs in exchange for a royalty. -https://www.printables.com/model/261509-on-mars-lacerda-insert-organizer